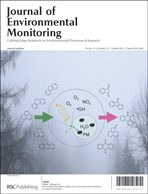 On the outside front cover, this month's issue features work from Kalliat Valsaraj and co-workers. In their article, the team investigate the processing of atmospheric polycyclic aromatic hydrocarbons (PAHs) during fog events.
The authors identified two processing pathways: (i) the dissolution of OPAC from particulate matter and (ii) the uptake and oxidation of PAH in the fog water droplets.
Read more in the full article:
Processing of atmospheric polycyclic aromatic hydrocarbons by fog in an urban environment
Franz S. Ehrenhauser, Kalindi Khadapkar, Youliang Wang, James W. Hutchings, Olivier Delhomme, Raghava R. Kommalapati, Pierre Herckes, Mary J. Wornat and Kalliat T. Valsaraj
DOI: 10.1039/C2EM30336A
Other HOT articles in this issue include:
Comprehensive environmental review following the pork PCB/dioxin contamination incident in Ireland
Ian Marnane
DOI: 10.1039/C2EM30374D
Using passive air samplers to assess local sources versus long range atmospheric transport of POPs
Anne Karine Halse, Martin Schlabach, Andy Sweetman, Kevin C. Jones and Knut Breivik
DOI: 10.1039/C2EM30378G
Levels and distribution of hexabromocyclododecane (HBCD) in environmental samples near manufacturing facilities in Laizhou Bay area, East China
Honghua Li, Qinghua Zhang, Pu Wang, Yingming Li, Jianxia Lv, Weihai Chen, Dawei Geng, Yawei Wang, Thanh Wang and Guibin Jiang
DOI: 10.1039/C2EM30231D
Assessment of environmental mercury discharge at a four-year-old artisanal gold mining area on Lombok Island, Indonesia
Baiq Dewi Krisnayanti, Christopher W. N. Anderson, Wani Hadi Utomo, Xinbin Feng, Eko Handayanto, Nurul Mudarisna, Hadiman Ikram and Khususiah
DOI: 10.1039/C2EM30515A
The application of biochemical responses to assess environmental quality of tropical estuaries: field surveys
Luciane Alves Maranho, Camilo Dias Seabra Pereira, Rodrigo Brasil Choueri, Augusto Cesar, Paloma Kachel Gusso-Choueri, Ronaldo José Torres, Denis Moledo de Souza Abessa, Rodofley Davino Morais, Antônio Aparecido Mozeto, Tomás Angel DelValls and María Laura Martín-Díaz
DOI: 10.1039/C2EM30465A
Also in this issue is our monthly Environmental Digest -covering legislation, environmental quality, chemical hazards, public and occupational health and research activities from Europe and around the world, it's an invaluable source of environmental information.
Environmental digest
DOI: 10.1039/C2EM90047E
Read the rest of the issue here.