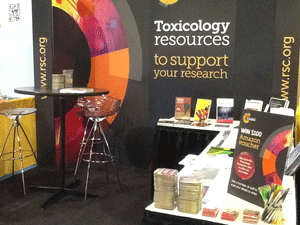 Thanks to everyone who visited our booth last week at the Society of Toxicology Meeting in Phoenix – it was great to meet you! 
We had a range of toxicology resources on display, including Toxicology Research and our Issues in Toxicology book series.
Congratulations to Lawrence Kennedy (United States Naval Academy), the lucky winner of our prize draw.
Please stay in touch
All competition entrants are now signed up to the Toxicology Research table of contents e-alert.
Sign up to stay in touch with other books and journals relevant to your field.

Also of interest
Subscribe to Toxicology Research for just £50
£50* – that's all it costs Royal Society of Chemistry members to subscribe to Toxicology Research online in 2014.

If you want to stay up-to-date with all the latest research in the toxicology field, don't miss out on what Toxicology Research has to offer – join the world's leading chemical science community and make the most of this special members' rate.
* VAT at 20% will be added to subscriptions from EU members, making the total price £60.
Forthcoming new books in the Issues in Toxicology series