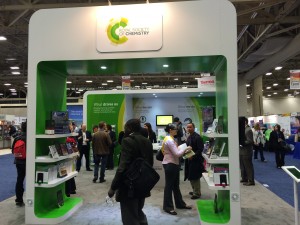 We're looking forward to seeing many of you at the 249th ACS National Meeting & Exposition in Denver. There will be a lot to absorb, but don't forget to pay us a visit!
It's all happening at stand 701
Come and meet us – people from across the organisation, including representatives from the publishing, journal, magazine and ChemSpider teams will be at the event to answer your questions, hear your views and share our plans for the year.
Celebrate the launch of our newest journal – join us at the stand on Tuesday when we'll be celebrating the launch of Nanoscale Horizons, the home for rapid reports of exceptional significance in nanoscience and nanotechnology.
Meet the Chemical Science editorial team – visit on Monday between 12.00 and 13.00 to meet Editor-in-Chief Dan Nocera of Harvard University and the team. Find out more about our flagship journal's recent move to Gold Open Access and its status as a dedicated home for cutting-edge research from across the chemical sciences.
Get 40% off our books – there will be 30% off our books throughout the meeting, but keep an eye out for happy hours, when you'll be able to get 40% off top titles. They will be running from 15.00-16.00, Monday and Tuesday.
Win an iPad mini – sign up at the stand to get a free wristband and enter the prize draw.
And that's not all…
Book signing
On Monday 23 March, have your copy of New Trends in Cross-Coupling: Theory and Applications signed by Thomas Colacot, recipient of the 2015 ACS Award in Industrial Chemistry, and special guest, Ei-ichi Negishi. This is taking place during the 'New Trends in Cross-Coupling Catalysis in Industry and Academia' symposium.
Members' reception
This invite-only evening event will be a chance for our members to network, meet the team and hear from Deputy Chief Executive Stephen Hawthorne.
See you in March!