Introducing Nanoscale Horizons – launching next year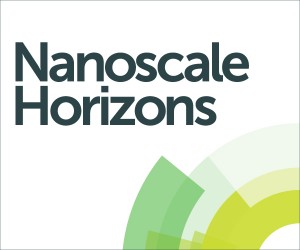 The home for rapid reports of exceptional significance in nanoscience and nanotechnology is on its way.
Our newest journal will work alongside Nanoscale to provide a rounded view of innovation in nano research, and bridge the various disciplines involved with nanoscience and nanotechnology. We'll be looking for high impact work in fields ranging from physics and chemistry to IT, healthcare and detection science.
A pioneering Editorial Board Chair
Our Editorial Board Chair is Professor Harold Craighead, Professor of Engineering at Cornell University, USA and a pioneer in nanofabrication methods. He will head up an expert editorial board, led by Executive Editor Dr Fiona McKenzie.
Rapid reports, cutting-edge research
The first issue in 2016 will lay the groundwork for what aims to be the journal of choice for outstanding research across a broad spectrum.
Articles published will benefit from wide exposure, and content published during 2016 and 2017 is free upon registration – giving maximum visibility to your research.
Nanoscale Horizons will be launching soon. Sign up to our Email Alerts Service and make sure you're among the first to hear the latest.