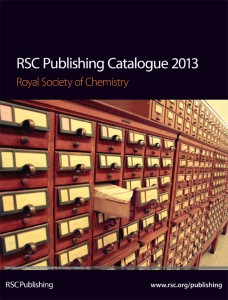 There's a lot of information about a lot of products out there, but not always enough time to view it all.
We feel that the 2013 RSC Publishing Catalogue is a vital document as it shows the depth and detail of what we do for the chemical sciences.
You can view the catalogue online, but, you may just want the highlights for 2013, so here they are:
Two NEW journals – Biomaterials Science (P.5) and Toxicology Research (P.21) – both available for free to all existing subscribers or registered users
More journal content – CrystEngComm (48 issues, previously 24), Faraday Discussions (8 issues, previously 6), Polymer Chemistry (24 issues, previously 12), RSC Advances (48 issues, previously 24), Analytical Methods (24 issues, previously 12)
Great savings on collections – RSC Gold (P.18) now includes Catalysis Science & Technology (p.5) and RSC Advances (P.20).
More flexibility on eBooks – annual collections now available for all years from 2008-2013 (P.19)
Plus various options  for our archive – whether an outright purchase or an annual lease  for 1841-2007, or just a top-up for 2005-2007 (P.18)
If you would like a hard copy of the catalogue, please contact marketing@rsc.org.
If you have a sales enquiry, please contact your RSC Account Manager or your local Subscription Agent. Alternatively you can e-mail sales@rsc.org.