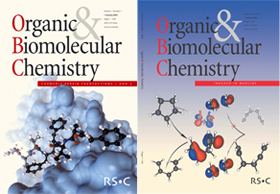 In our continued countdown to Organic & Biomolecular Chemistry's 10th anniversary issue we have had a look back at some of the art work that has appeared on our covers through the years. Below are the front covers of issue 1 and the work that featured on them for each year since the inception of OBC. What's your favourite?
These stylish old school covers (right) were originally seen in 2003 & 2004 on volumes 1 & 2 respectively.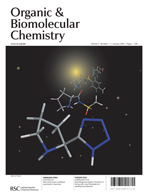 Volume 3:
Free: New chiral anion mediated asymmetric chemistry
Jérôme Lacour and Richard Frantz
Org. Biomol. Chem., 2005, 3, 15–19
DOI: 10.1039/B413554G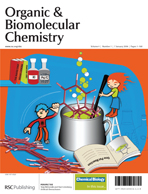 Volume 4:
Free: Artificial ribonucleases
Teija Niittymäki and Harri Lönnberg
Org. Biomol. Chem., 2006, 4, 15–25
DOI: 10.1039/B509022A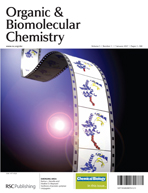 Volume 5:
Free: Synthesis of protein–polymer conjugates
Karina L. Heredia and Heather D. Maynard
Org. Biomol. Chem., 2007, 5, 45–53
DOI: 10.1039/B612355D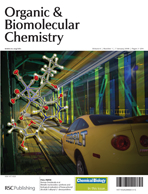 Volume 6:
Free: Metallo-nucleosides: synthesis and biological evaluation of hexacarbonyl dicobalt 5-alkynyl-2′-deoxyuridines
Craig D. Sergeant et al.
Org. Biomol. Chem., 2008, 6, 73–80
DOI: 10.1039/B713371E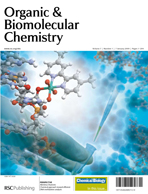 Volume 7:
Free: Chemical approach toward efficient DNA methylation analysis
Akimitsu Okamoto
Org. Biomol. Chem., 2009, 7, 21–26
DOI: 10.1039/B813595A
Volume 8:
Free: Synthesis and biological evaluation of phosphatidylinositol phosphate affinity probes
Stuart J. Conway et al.
Org. Biomol. Chem., 2010, 8, 66–76
DOI: 10.1039/B913399B
Volume 9:
Free: Practical access to highly enantioenriched quaternary carbon Michael adducts using simple organocatalysts
Thomas C. Nugent, Mohammad Shoaib and Amna Shoaib
Org. Biomol. Chem., 2011, 9, 52–56
DOI: 10.1039/C0OB00822B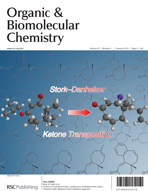 Volume 10:
Free: Synthesis of enantioenriched γ-quaternary cycloheptenones using a combined allylic alkylation/Stork–Danheiser approach: preparation of mono-, bi-, and tricyclic systems
Nathan B. Bennett et al.
Org. Biomol. Chem., 2012, 10, 56–59
DOI: 10.1039/C1OB06189E
All of these articles are FREE to access so if you missed them the first time round why not have a read now. In fact, why not have a look at the whole of the issue? All the content from each issue 1 is now FREE to access so dive in and enjoy:
Do you have a favourite cover from our 10 years? Why not share it with us by leaving a comment below.
 Interested in having your work featured on a cover? Submit your work to us and show us your artwork.
 Missed our other 10th anniversary posts? Take a look here for some of our top cited work.