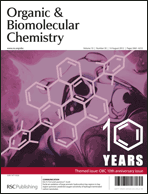 Curious about which articles published in 2012 gathered most readership? Here are the Top 10 works your colleagues have been accessing in Organic & Biomolecular Chemistry:
A one-pot catalysis: the strategic classification with some recent examples
Nitin T. Patil, Valmik S. Shinde and Balakrishna Gajula
Org. Biomol. Chem., 2012, 10, 211-224
DOI: 10.1039/C1OB06432K
A convenient and mild chromatography-free method for the purification of the products of Wittig and Appel reactions
Peter A. Byrne, Kamalraj V. Rajendran, Jimmy Muldoon and Declan G. Gilheany
Org. Biomol. Chem., 2012, 10, 3531-3537
DOI: 10.1039/C2OB07074J
Imidazole derivatives: A comprehensive survey of their recognition properties
Pedro Molina, Alberto Tárraga and Francisco Otón
Org. Biomol. Chem., 2012, 10, 1711-1724
DOI: 10.1039/C2OB06808G
Enhanced reduction of C–N multiple bonds using sodium borohydride and an amorphous nickel catalyst
Shouxin Liu, Yihua Yang, Xiaoli Zhen, Junzhang Li, Huimin He, Juan Feng and Andrew Whiting
Org. Biomol. Chem., 2012, 10, 663-670
DOI: 10.1039/C1OB06471A
Strategies for the enantioselective synthesis of spirooxindoles
Nicolas R. Ball-Jones, Joseph J. Badillo and Annaliese K. Franz
Org. Biomol. Chem., 2012, 10, 5165-5181
DOI: 10.1039/C2OB25184A
Thiol–yne coupling: revisiting old concepts as a breakthrough for up-to-date applications
Alessandro Massi and Daniele Nanni
Org. Biomol. Chem., 2012, 10, 3791-3807
DOI: 10.1039/C2OB25217A
Small molecule control of bacterial biofilms
Roberta J. Worthington, Justin J. Richards and Christian Melander
Org. Biomol. Chem., 2012, 10, 7457-7474
DOI: 10.1039/C2OB25835H
Asymmetric organocatalytic formation of protected and unprotected tetroses under potentially prebiotic conditions
Laurence Burroughs, Paul A. Clarke, Henrietta Forintos, James A. R. Gilks, Christopher J. Hayes, Matthew E. Vale, William Wade and Myriam Zbytniewski
Org. Biomol. Chem., 2012, 10, 1565-1570
DOI: 10.1039/C1OB06798B
Olefin cross-metathesis for the synthesis of heteroaromatic compounds
Timothy J. Donohoe, John F. Bower and Louis K. M. Chan
Org. Biomol. Chem., 2012, 10, 1322-1328
DOI: 10.1039/C2OB06659A
Selective N-alkylation of amines using nitriles under hydrogenation conditions: facile synthesis of secondary and tertiary amines
Takashi Ikawa, Yuki Fujita, Tomoteru Mizusaki, Sae Betsuin, Haruki Takamatsu, Tomohiro Maegawa, Yasunari Monguchi and Hironao Sajiki
Org. Biomol. Chem., 2012, 10, 293-304
DOI: 10.1039/C1OB06303K
Interested in submitting your own work to OBC? Submit online today, or email us with your suggestions!