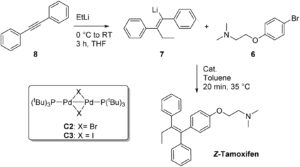 Nowadays, chemists are increasingly interested in revealing simpler methodologies for the synthesis of various drugs with high selectivity and purity. Transition metal catalysis has opened a wide window for the synthesis of different natural products and drugs with greater ease.
Z-Tamoxifen is one such drug, which is used in the treatment of breast cancer. Although there are many well-established synthetic procedures for the synthesis of Z-tamoxifen by various research groups such as T. Stiidemann et.al. and P. L. Coe et.al. etc., there are disadvantages to current methods, such as the use of multiple synthetic steps and generation of stoichiometric amounts of waste. Thus, there is a need to overcome these drawbacks.
In their recent OBC publication, Prof. Ben L. Feringa et.al. of Stratingh Institute for Chemistry, University of Groningen, Nijenborgh develop a fantastic two step protocol for the synthesis of Z-tamoxifen from commercially available starting materials. Usually, the transmetallation of anions formed by carbolithiation of (diphenyl)acetylenes with magnesium, boron, zinc or aluminium results in an active cross coupling partner, but with low atom efficiency. Here, Feringa et.al., for the first time proposed the direct cross coupling of the formed organolithium reagent with aryl halides in the presence of an active palladium nanoparticle based catalyst, cutting down the number of synthetic steps required to two, with excellent selectivities and yields. They report the thorough screening of reaction conditions such as solvent, temperature, catalyst loading etc. and explain the effect of various reaction parameters. The 0.67 atom economy and 22% RME achieved in the study is twice as good as the previously reported best protocol, and the scientists found that THF gave the desired product without encouraging any side reactions. Another advantage of this reaction is that the formed side product (lithium halide) can be easily removed.
Hence, Prof. Ben L. Feringa laid a new efficient pathway for the synthesis of biologically important Z-tamoxifen through his works.
Read their full article now.
About the Blog Writer: A. Vamshi Krishna is currently pursuing a PhD  in Organic chemistry with Prof. D. B. Ramachary at University of Hyderabad. His research mainly focuses on asymmetric supramolecular catalysis and organocatalysis, where he synthesises highly functionalized biologically active novel scaffolds with excellent selectivities and yields. He is passionate about scientific writing.