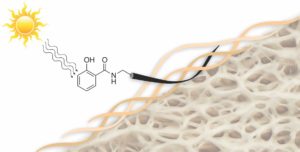 The risks associated with excessive exposure to ultraviolet (UV) radiation are well studied and many national healthcare initiatives have been pushing for large-scale sun protection programs. Despite this drive for a broader public awareness, recent studies have disclosed that skin cancers, such as melanoma, basal cell carcinoma, and squamous cell carcinoma, have become the most common form of cancer worldwide, with more new cases of skin cancer diagnosed in the U.S. than breast, prostate, lung and colon cancer combined.
In a recent OBC study by Professor Ronald Raines of MIT, the researchers identify that although the risk of skin cancer and visible signs of aging can be minimized by using sunscreen, there is still a need to develop more durable, non-greasy sunscreens that are not readily washed away with water or sweat.

Sunscreens typically form a protective barrier on the skin and protect against various types of UV radiation by either absorbing or reflecting UV light before it can reach DNA. Typical absorbing filters are small aromatic compounds, such as salicylates, cinnamates, benzophenones, or derivatives of p-aminobenzoic acid.
Previous studies have been carried out wherein small molecule UV filters have been attached to lipophilic moieties to minimize the amount of sunscreen washed away during physical activity. However, such compounds have not been shown to effectively withstand 'washing' and are often undesirably greasy, which according to the authors diminishes public compliance to use them.
Raines and coworkers propose that collagen mimic peptides (CMPs) could be used to effectively anchor pendent UV-filters to the skin. Natural collagen contains loops and interruptions in its overall 3D structure which provide numerous binding sites for CMPs (as demonstrated in the Raines group's previous work). Since collagen is the primary component of skin, this would provide a means for efficiently tethering UV filters to the skin in order to create an effective, water-resistant sunscreen. Raines and coworkers showed the successful anchoring of a salicylic acid bound CMP and its retention on collagen-containing skin surrogates after repeated water washes. This strategy is highly modular and provides an excellent proof-of-concept for the development of more effective and durable sunscreens to address a worldwide concern.
To find out more see:
A pendant peptide endows a sunscreen with water-resistance
Aubrey J. Ellison and  Ronald T. Raines
DOI:10.1039/C8OB01773E
---
Victoria Corless has recently completed her Ph.D. in organic chemistry with Prof. Andrei Yudin at the University of Toronto. Her research is centered on the synthesis of kinetically amphoteric building blocks which offer a versatile platform for the development of chemoselective transformations with particular emphasis on creating novel biologically active molecules. She is passionate about communicating new discoveries to enhance science literacy.