Bioorthogonal reactions offer a unique and highly effective means of studying biological molecules in their native environment. Classical examples include native chemical ligations, Staudinger ligation, and click chemistry though numerous examples have been reported in the literature over the past several decades.
The majority of studies centred around the development of bioorthogonal reagents have focused on improving kinetics and selectivity in vivo. However, less explored are reagents in which their reactivity in biological settings is modulated through controlled activation by light or a specific enzyme.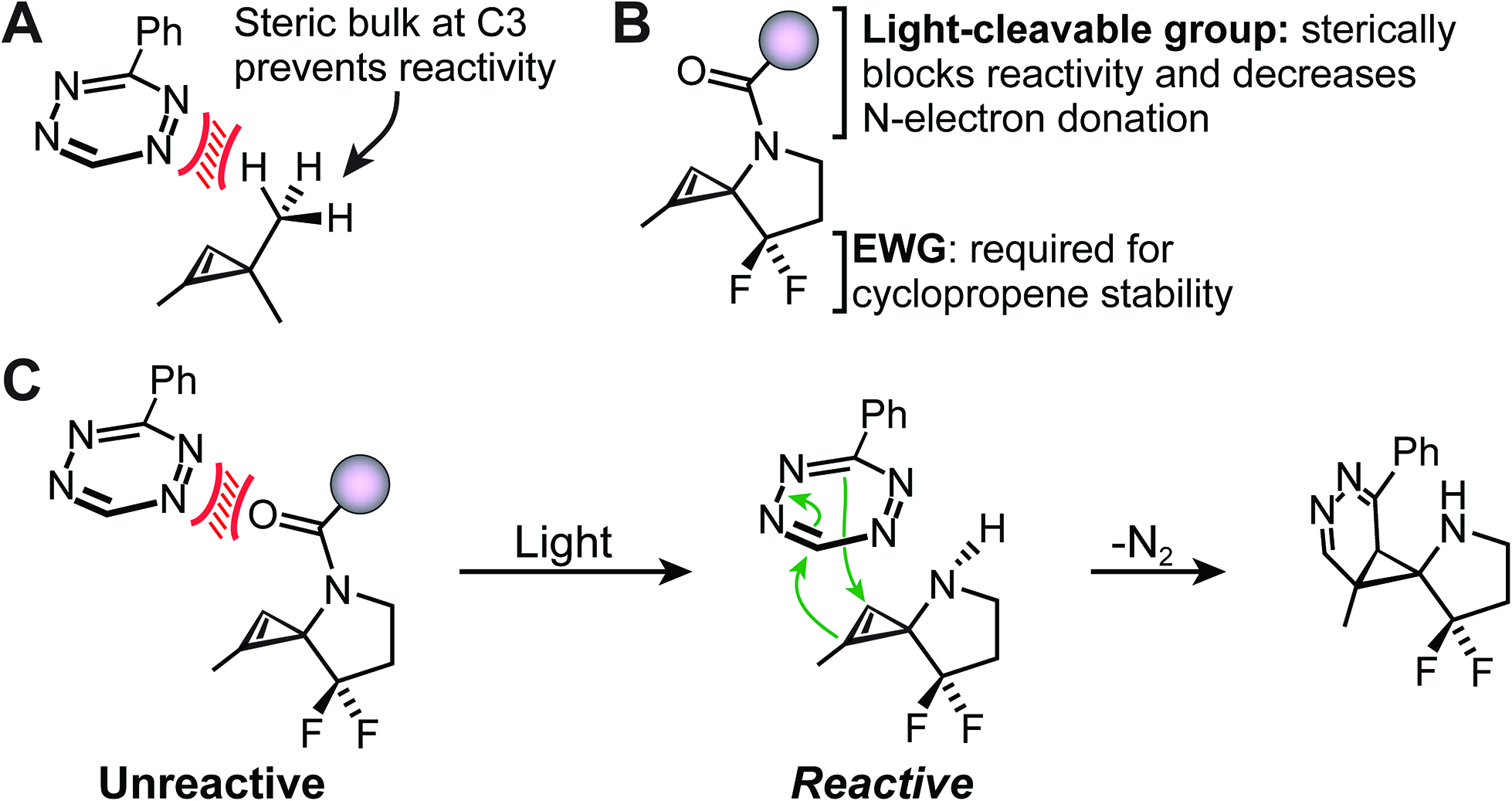 In their recent OBC publication, Professor Scott Laughlin and coworkers describe the modular control of novel cyclopropane-tetrazine ligation. Previous reports have demonstrated the poor reactivity of C3 disubstituted cyclopropene in these types of reactions due to unfavourable steric interactions between the C3 substituents and the tetrazine during the transition state (Figure A). To this end, 3-N-substituted spirocyclopropenes were designed to control ligation through a "reactivity caging strategy" in which the introduction of a removable bulky N-protecting group sterically inhibits premature reaction with the tetrazine partner (Figure B and C).
The novel cyclopropene scaffold was synthesized from commercially available starting materials in good overall yields and applied successfully to the labelling of a tetrazine-modified protein. Given the widespread use of light-removable nitrogen protecting groups, the group predicts their activatable cyclopropene scaffold will be amenable to control at multiple wavelengths. While optimization of reaction kinetics is still required, this study provides interesting opportunities for the application of diverse caging groups in modulating reactivity for specific biological systems and applications.
To find out more see:
Caged cyclopropenes for controlling bioorthogonal reactivity
Pratik Kumar, Ting Jiang, Sining Li, Omar Zainul, and Scott T. Laughlin
DOI:10.1039/C8OB01076E
---
Victoria Corless is currently completing her Ph.D. in organic chemistry with Prof. Andrei Yudin at the University of Toronto. Her research is centred on the synthesis of kinetically amphoteric building blocks which offer a versatile platform for the development of chemoselective transformations with particular emphasis on creating novel biologically active molecules.