The articles below are some of the most read Organic & Biomolecular Chemistry articles in January, February and March 2016.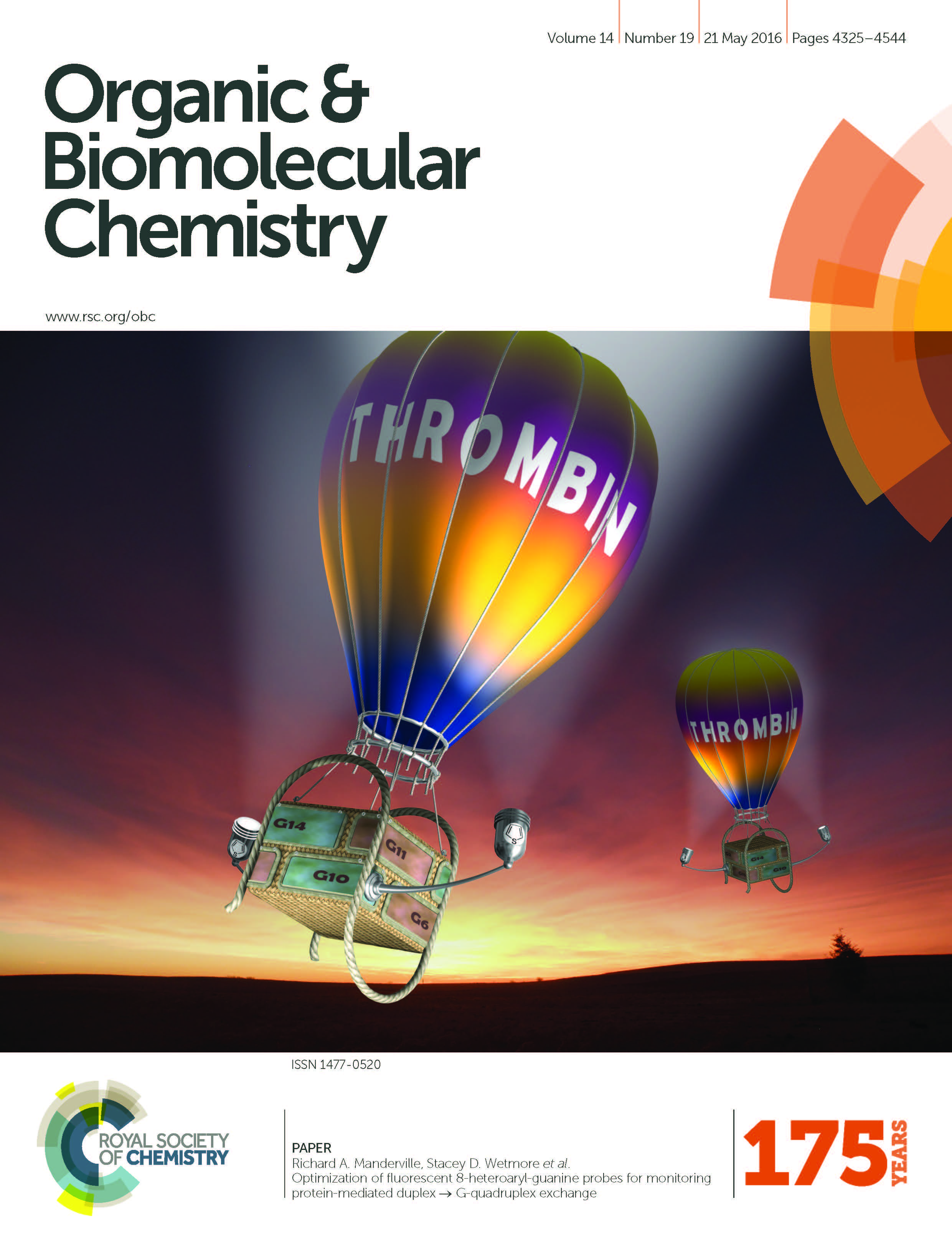 Development of a stable phosphoarginine analog for producing phosphoarginine antibodies
Han Ouyang, Chuan Fu, Songsen Fu, Zhe Ji, Ying Sun, Peiran Deng and Yufen Zhao
DOI: 10.1039/C5OB02603B, Communication
Bifunctional primary amine-thioureas in asymmetric organocatalysis
Olga V. Serdyuk, Christina M. Heckel and Svetlana B. Tsogoeva
DOI: 10.1039/C3OB41403E, Perspective
Transition-metal catalyzed valorization of lignin: the key to a sustainable carbon-neutral future
Markus D. Kärkäs, Bryan S. Matsuura, Timothy M. Monos, Gabriel Magallanes and Corey R. J. Stephenson
DOI: 10.1039/C5OB02212F, Review Article
Design and synthesis of analogues of natural products
Martin E. Maier
DOI: 10.1039/C5OB00169B, Review Article
Organic synthetic transformations using organic dyes as photoredox catalysts
Shunichi Fukuzumi and Kei Ohkubo
DOI: 10.1039/C4OB00843J, Review Article
Biomineralization-inspired synthesis of functional organic/inorganic hybrid materials: organic molecular control of self-organization of hybrids
Atsushi Arakaki, Katsuhiko Shimizu, Mayumi Oda, Takeshi Sakamoto, Tatsuya Nishimura and Takashi Kato
DOI: 10.1039/C4OB01796J, Review Article
Synthesis of substituted pyrenes by indirect methods
Juan M. Casas-Solvas, Joshua D. Howgego and Anthony P. Davis
DOI: 10.1039/C3OB41993B, Review Article
Recent synthetic additions to the visible light photoredox catalysis toolbox
Ricardo A. Angnes, Zhou Li, Carlos Roque D. Correia and Gerald B. Hammond
DOI: 10.1039/C5OB01349F, Review Article
A protocol for amide bond formation with electron deficient amines and sterically hindered substrates
Maria E. Due-Hansen, Sunil K. Pandey, Elisabeth Christiansen, Rikke Andersen, Steffen V. F. Hansen and Trond Ulven
DOI: 10.1039/C5OB02129D, Communication
Metal catalyzed defunctionalization reactions
Atanu Modak and Debabrata Maiti
DOI: 10.1039/C5OB01949D, Review Article
A review: microRNA detection methods
Tian Tian, Jiaqi Wang and Xiang Zhou
DOI: 10.1039/C4OB02104E, Review Article
Synthesis of highly functionalized C60 fullerene derivatives and their applications in material and life sciences
Weibo Yan, Stefan M. Seifermann, Philippe Pierrat and Stefan Bräse
DOI: 10.1039/C4OB01663G, Review Article
Design and synthesis of dihydroisoquinolones for fragment-based drug discovery (FBDD)
Nick Palmer, Torren M. Peakman, David Norton and David C. Rees
DOI: 10.1039/C5OB02461G, Paper
O-Acyl oximes: versatile building blocks for N-heterocycle formation in recent transition metal catalysis
Huawen Huang, Jinhui Cai and Guo-Jun Deng
DOI: 10.1039/C5OB02417J, Review Article
Palladium-catalyzed enolate arylation as a key C–C bond-forming reaction for the synthesis of isoquinolines
Ben S. Pilgrim, Alice E. Gatland, Carlos H. A. Esteves, Charlie T. McTernan, Geraint R. Jones, Matthew R. Tatton, Panayiotis A. Procopiou and Timothy J. Donohoe
DOI: 10.1039/C5OB02320C, Paper
Next generation maleimides enable the controlled assembly of antibody–drug conjugates via native disulfide bond bridging
Felix F. Schumacher, João P. M. Nunes, Antoine Maruani, Vijay Chudasama, Mark E. B. Smith, Kerry A. Chester, James R. Baker and Stephen Caddick
DOI: 10.1039/C4OB01550A, Paper
Perenosins: a new class of anion transporter with anti-cancer activity
Wim Van Rossom, Daniel J. Asby, Ali Tavassoli and Philip A. Gale
DOI: 10.1039/C6OB00002A, Paper
Synthesis and activity of a novel inhibitor of nonsense-mediated mRNA decay
Victoria J. B. Gotham, Melanie C. Hobbs, Ryan Burgin, David Turton, Carl Smythe and Iain Coldham
DOI: 10.1039/C5OB02482J, Communication
Oxidative coupling between C(sp2)–H and C(sp3)–H bonds of indoles and cyclic ethers/cycloalkanes
Qingjing Yang, Pui Ying Choy, Yinuo Wu, Baomin Fan and Fuk Yee Kwong
DOI: 10.1039/C6OB00076B, Communication
Design strategies for bioorthogonal smart probes
Peyton Shieh and Carolyn R. Bertozzi
DOI: 10.1039/C4OB01632G, Review Article
Copper-catalysed azide–alkyne cycloadditions (CuAAC): an update
Estela Haldón, M. Carmen Nicasio and Pedro J. Pérez
DOI: 10.1039/C5OB01457C, Review Article
Anatomy of gold catalysts: facts and myths
Beatrice Ranieri, Imma Escofet and Antonio M. Echavarren
DOI: 10.1039/C5OB00736D, Review Article
Taming tosyl azide: the development of a scalable continuous diazo transfer process
Benjamin J. Deadman, Rosella M. O'Mahony, Denis Lynch, Daniel C. Crowley, Stuart G. Collins and Anita R. Maguire
DOI: 10.1039/C6OB00246C, Paper
Keep up-to-date with the latest issues of Organic & Biomolecular Chemistry by joining our e-alerts.