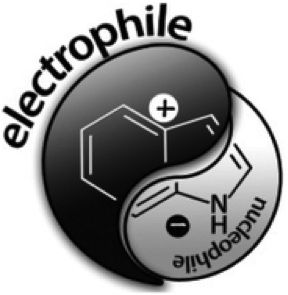 In this PERSPECTIVE article, Marco Bandini presents an overview of indole electrophilicity, illustrated with a range of pertinent examples of this "dark-side" of indole reactivity.
Indoles are one of the most common heterocyclic motifs found in nature. These bicyclic arenes have had a profound impact on drug discovery, materials science, catalysis and many other areas of chemistry.
Professor Marco Bandini and his research group at the Università di Bologna specialise in indole "decoration" and the development of new methodology for the chemical manipulation of this functional group.
The indolyl core is, as Bandini explains, "spectacularly nucleophilic" and this accounts for a large proportion of the literature contributions. There is, however, also a relatively undeveloped side of their reactivity: "electrophilic" indoles.
While there are many examples of this type of reactivity, some of which date back to the 1960s, it remains in the shadow of the well-understood and established chemistry that explores the indole core's innate nucleophilicity. The opportunities to expand the chemical portfolio of indole decoration, via nucleophilic substitutions and additions, are still largely unexplored.
The ubiquity of this core means that new ways to functionalise and manipulate indoles will always be a welcome addition to the organic chemist's toolbox. As Bandini discusses, exploitation of the umpolung chemistry of these functional groups provides access to a wide diversity of chemical structures.
This Perspective article elegantly documents the electrophilic nature of indoles, and highlights some of the important discoveries and developments in this field. It is a must-read for anyone interested in these intriguing molecules.
Give yourself to the dark side and check out the article here.
Electrophilicity: the "dark-side" of indole chemistry
Marco Bandini
DOI: 10.1039/C3OB40735G