Issue 9 of Organic & Biomolecular Chemistry is out now. Why not take a break, put your feet up with a can of your favourite drink and browse all the great content.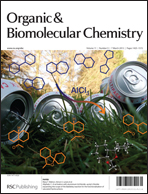 This week's front cover highlights the work of Simon E. Lewis and colleagues at the University of Bath who demonstrate the applicability of Baddeley's "aliphatic Friedel–Crafts" procedure to a range of saturated hydrocarbon substrates, and discuss its mechanism with the aid of DFT modelling data.
Aliphatic C–H activation with aluminium trichloride–acetyl chloride: expanding the scope of the Baddeley reaction for the functionalisation of saturated hydrocarbons
Catherine L. Lyall, Mario Uosis-Martin, John P. Lowe, Mary F. Mahon, G. Dan Pantoş and Simon E. Lewis
DOI: 10.1039/C2OB26765A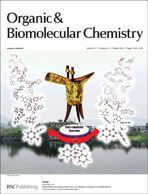 On the inside front cover is the work of Lei Zhou and co-workers at Sun Yat-Sen University who describe a general synthesis of 2-substituted benzofurans and indoles through a CuBr-catalyzed coupling–allenylation–cyclization sequence.
Benzofuran and indole synthesis via Cu(I)-catalyzed coupling of N-tosylhydrazone and o-hydroxy or o-amino phenylacetylene
Tiebo Xiao, Xichang Dong and Lei Zhou
DOI: 10.1039/C2OB26867A
Both articles can be read for free for the next 6 weeks!