Welcome to this week's issue of Organic & Biomolecular Chemistry!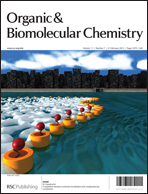 On the front cover:
M. Cepeda and co-workers explore the solution phase behaviour of β-cyclodextrin/alkyltrimethylammonium bromide mixtures, varying the surfactant alkyl chain length from hexyl (C6) to octadecyl (C18).
Competition between surfactant micellization and complexation by cyclodextrin
M. Cepeda, R. Daviña, L. García-Río, M. Parajó, P. Rodríguez-Dafonte and M. Pessêgo
DOI: 10.1039/C2OB26318A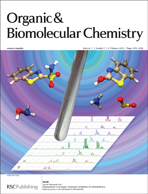 On the inside cover:
Jasmin Mecinović and colleagues describe how hydroxylamine acts as an oxygen nucleophile in the substitution reaction with benzothiazole-2-sulfonamides in aqueous media.
Hydroxylamine as an oxygen nucleophile: substitution of sulfonamide by a hydroxyl group in benzothiazole-2-sulfonamides
Jos J. A. G. Kamps, Roman Belle and Jasmin Mecinović
DOI: 10.1039/C2OB26929E
Don't forget, both of these cover articles are free to access for the next 6 weeks!
Get your hands on the rest of the great content in this issue HERE, and why not have a look at some of the latest published articles not yet in an issue.