Welcome one and all as we take a look inside issue 5 of Organic & Biomolecular Chemistry!
Between its covers this week we have 2 Emerging area reviews on the enantioselective synthesis of helicenequinones and -bisquinones, and asymmetric trienamine catalysis: new opportunities in amine catalysis; 2 Communications and 16 articles, including a HOT article on the synthesis of polysubstituted furanonaphthoquinones (free to access for 4 weeks).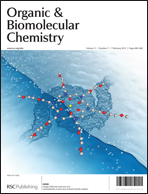 On the front cover:
This week's cover is highlighting the work of Irene Izzo and colleagues at Università degli Studi di Salerno. Izzo et al. highlight the potential of cyclopeptoids as phase transfer catalysts, reporting the syntheses, binding affinities and catalytic abilities of 5 cyclohexapeptoids and comparing them with well-known phase-transfer catalysts.
Cyclopeptoids: a novel class of phase-transfer catalysts
Giorgio Della Sala, Brunello Nardone, Francesco De Riccardis and Irene Izzo
DOI: 10.1039/C2OB26764K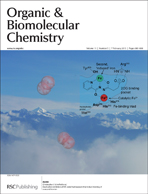 On the inside front cover:
Highlighted here is the work of Christopher J. Schofield and co-workers who report the success design of inhibitors that have the dual-action of binding to prolyl hydroxylase active sites and simultaneously depleting iron levels in cells by inducing the binding of a second iron ion at the active site.
Dual-action inhibitors of HIF prolyl hydroxylases that induce binding of a second iron ion
Kar Kheng Yeoh, Mun Chiang Chan, Armin Thalhammer, Marina Demetriades, Rasheduzzaman Chowdhury, Ya-Min Tian, Ineke Stolze, Luke A. McNeill, Myung Kyu Lee, Esther C. Y. Woon, Mukram M. Mackeen, Akane Kawamura, Peter J. Ratcliffe, Jasmin Mecinović and Christopher J. Schofield
DOI: 10.1039/C2OB26648B