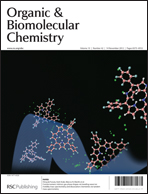 Organic & Biomolecular Chemistry issue 42
On the front cover:
We have this HOT article from Marcos N. Eberlin and colleagues studying corrole isomers using traveling wave ion mobility mass spectrometry and collision induced dissociation experiments. The isomers had subtle structural changes, promoted by exchange of nitrogen and carbon atoms in the corrole ring, and significant differences in the shapes and charge distributions of the protonated molecules were found to lead to contrasting gas phase mobilities.
Corrole isomers: intrinsic gas-phase shapes via traveling wave ion mobility mass spectrometry and dissociation chemistries via tandem mass spectrometry
Maíra Fasciotti, Alexandre F. Gomes, Fabio C. Gozzo, Bernardo A. Iglesias, Gilberto F. de Sá, Romeu J. Daroda, Motoki Toganoh, Hiroyuki Furuta, Koiti Araki and Marcos N. Eberlin
DOI: 10.1039/C2OB26209F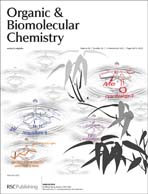 On the inside cover:
A Perspective by Xuefeng Jiang, Jason S. Chen and colleagues, on the thermodynamic driving force of many synthetic transformations – gas extrusion. The review focuses on gas expulsion in key reactions within natural products total syntheses, selected from the past two decades. Included are transformations that generate sulfur dioxide, carbon dioxide, carbonyl sulfide, or nitrogen through polar, radical, pericyclic, photochemical, or organometallic mechanisms.
Gas extrusion in natural products total synthesis
Xuefeng Jiang, Lei Shi, Hui Liu, Akbar H. Khan and Jason S. Chen
DOI: 10.1039/C2OB26152A
There is also:
Another HOT article on the efficient synthesis of N-(buta-2,3-dienyl) amides from terminal N-propargyl amides and their synthetic potential towards oxazoline derivatives by Shengming Ma et al., 1 Communication and 16 more Papers… read them all in OBC issue 42 – it's online now.
And don't forget, the cover articles will be free to access for the next 6 weeks!