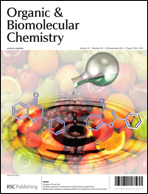 It's all getting a bit fruity on the cover of this week's issue of OBC thanks to the work of Sungwoo Hong and co-workers from Korea Advanced Institute of Science and Technology. Hong et al. present the impressive catalytic effects of Fe(OTf)3 in the Pd(II)-catalyzed conjugate addition of arylboronic acids to chromones to give a variety of flavanones, which exclusively yield flavone analogs when of catalytic amounts of DDQ and KNO2 are added.
Synthetic approach to flavanones and flavones via ligand-free palladium(II)-catalyzed conjugate addition of arylboronic acids to chromones
Donghee Kim, Kyungrok Ham and Sungwoo Hong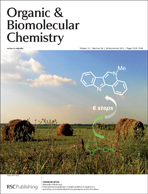 The inside cover highlights the work of Alexander V. Butin and colleagues, who have developed a simple method for the transformation of furfural, a large-scale product from the processing of agricultural and forestry wastes, into the  potent pharmacologically active compounds indolo[3,2-c]quinolines and isocryptolepines.
From biomass to medicines. A simple synthesis of indolo[3,2-c]quinolines, antimalarial alkaloid isocryptolepine, and its derivatives
Maxim G. Uchuskin, Arkady S. Pilipenko, Olga V. Serdyuk, Igor V. Trushkov and Alexander V. Butin
Both of these cover articles will be free to access for the next 6 weeks.
Also of interest in this issue is the review:

Organic fluorine as a polypeptide building element: in vivo expression of fluorinated peptides, proteins and proteomes
from L. Merkel and N. Budisa who present the most recent advances in the field of protein biosynthesis using fluorinated amino acids.