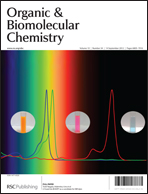 Forget the pot of gold at the end of the rainbow, this week it's all about getting you hands on issue 34 of Organic & Biomolecular Chemistry and its technicoloured covers.
On the front cover Hidemitsu Uno, Ehime University, and colleagues have prepared potential selective near-infrared (NIR) dyes by the fusion of boron-dipyrromethene (BODIPY) chromophores. Uno et al. designed these π-fused bis-BODIPY chromophores to show intensive absorption and strong fluorescence in the near-infrared region and not to have any strong absorption in the visible region.
π-Fused bis-BODIPY as a candidate for NIR dyes
Mitsunori Nakamura, Hiroyuki Tahara, Kohtaro Takahashi, Toshi Nagata, Hiroki Uoyama, Daiki Kuzuhara, Shigeki Mori, Tetsuo Okujima, Hiroko Yamada and Hidemitsu Uno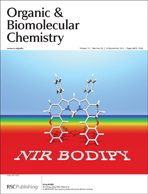 The inside cover from Xin-Dong Jiang, Henan University, and co-workers demonstrates the synthesis of a novel BODIPY from a 3,4,4a-trihydroxanthene-fused pyrrole, that is non-cytotoxic and so is suited to the labeling of living cells in the NIR region.
A NIR BODIPY dye bearing 3,4,4a-trihydroxanthene moieties
Xin-Dong Jiang, Ruina Gao, Yi Yue, Guo-Tao Sun and Weili Zhao
Also in this issue is a review by Liqun Jin and Aiwen Lei which presents insights into the elementary steps in Negishi coupling through kinetic investigations.
Read the complete issue here…. and as always the cover articles will be free to access for the next 6 weeks!