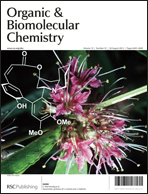 Issue 32 is now published, read it here today!
The front cover of this issue (right) highlights the work of E. Peter Kündig et al. who present the total syntheses of the Lythracea alkaloids (+)-vertine and (+)-lythrine, which is the first reported total synthesis of (+)-lythrine.
Asymmetric synthesis of (+)-vertine and (+)-lythrine
Laëtitia Chausset-Boissarie, Roman Àrvai, Graham R. Cumming, Laure Guénée and E. Peter Kündig
DOI: 10.1039/C2OB25880C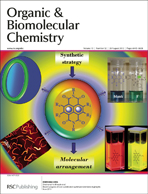 The inside cover (left) is courtesy of Sheshanath V. Bhosale et al. whose Emerging area review provides an update on the progress in the field of core-substituted naphthalenediimides from 2010, covering supramolecular chemistry, sensors, photo-induced electron transport in artificial photosystems, and solar cell applications.
Recent progress of core-substituted naphthalenediimides: highlights from 2010
Sheshanath V. Bhosale,  Sidhanath V. Bhosale and Suresh K. Bhargava
DOI: 10.1039/C2OB25798J
Both of these articles will free to access for the next 6 weeks so take a look and let us know your thoughts by commenting below.
Missed our 10th anniversary themed issue for OBC? Well after reading this week's issue have a look at the 68 articles that made up our 10th birthday issue here….