The 10th anniversary issue of OBC has arrived! This celebratory issue contains a massive 68 articles of great science from investigators at the forefront of current research. View the entire issue here….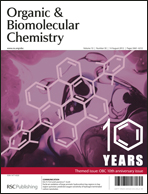 This nice front cover is courtesy of Eric H. Fort and Lawrence T. Scott who report the high reactivity of dimesitylbisanthene toward bay region air oxidation, leading to a bay region quinine. Fort and Scott say that "this finding signals a warning about the potential oxygen-sensitivity of hydrogenterminated carbon nanotubes; a single oxidation of this sort on the cylindrical rim of a growing carbon nanotube would preclude further elongation of the tube by the Diels–Alder cycloaddition/rearomatization protocol and would thereby terminate the growth."
Facile air-oxidation of large aromatic hydrocarbon bay regions to bay region quinones: predicted oxygen-sensitivity of hydrogen-terminated carbon nanotubes
Eric H. Fort and Lawrence T. Scott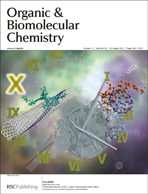 Also geared towards celebrating our 10th anniversary is this inside cover from Naoki Komatsu et al., which highlights their paper reporting on the optical enrichment of single-walled carbon nanotubes (SWNTs) with (n,m) other than those so far reported, together with their simultaneous separation according to their diameters by preferential extraction of commercial SWNTs with 2,6-pyridylene-bridged chiral diporphyrin nanotweezers.
Preferential extraction of left- or right-handed single-walled carbon nanotubes by use of chiral diporphyrin nanotweezers
Gang Liu, Tatsuki Yasumitsu, Li Zhao, Xiaobin Peng, Feng Wang, Ajoy K. Bauri, Shuji Aonuma, Takahide Kimura and Naoki Komatsu
In an issue packed with work from some of the best researches around there was always going to be a lot of HOT articles included, too many to list here. So, for the complete list of the HOT articles from this issue please have a look at our recent blog highlighting them.
Finally, the entire Organic & Biomolecular Chemistry team we would like to thank all of our Associate Editors, Editorial and Advisory Board members, authors and referees, without whom none of this past decade would have been possible, and we hope to work with you all to make the next 10 years even more successful.