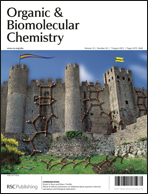 Storming the castle on the cover of this week's issue of OBC is the communication from Dustin H. Nouri and Dean J. Tantillo (winner of the 2012 NPR Lectureship) that presents quantum chemical calculations of a possible decomposition process for ladderane lipids. Nouri and Tantillo propose that hydrogen atom abstraction next to the ladderane core can lead to the opening of the cyclobutane rings that make up the ladderane substructure, and protonation leads directly to fragmentation.
Attack of radicals and protons on ladderane lipids: quantum chemical calculations and biological implications
Dustin H. Nouri and Dean J. Tantillo
DOI: 10.1039/C2OB25717C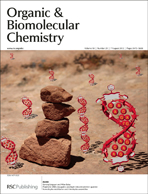 This interesting inside cover (left) highlights the work of Gevorg Sargsyan and Milan Balaz, who report the synthesis, self-assembly, stability, and spectroscopic studies of short alternating non-self-complementary DNA sequences 5′-(dGdA)4 and 5′-(dAdG)4 with non-charged tetraarylporphyrins covalently linked to the 5′ position of deoxyadenosine or deoxyguanosine via a phosphate or amide linker.
Porphyrin–DNA conjugates: porphyrin induced adenine–guanine homoduplex stabilization and interduplex assemblies
Gevorg Sargsyan and Milan Balaz
DOI: 10.1039/C2OB25710F
These cover articles are free to accesss for 6 weeks. Also in this issue is this HOT article, which is free to access for 4 weeks:
Locking high energy 1D chain of dichloromethane molecules containing abnormally short Cl⋯Cl contacts of 2.524 Å inside organic crystals
Feng Zhou, Haoliang Fu, Wei Qiang Ong, Ruijuan Ye, Weixing Yuan, Yu-Jing Lu, Yan-Ping Huo, Kun Zhang, Haibin Su and Huaqiang Zeng