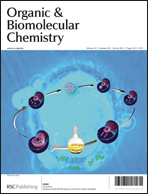 The front cover of this issue of OBC highlights the work of Tirumala G. Varadarajua and Jih Ru Hwu, demonstrating an efficient and convergent route for the synthesis of the natural product (+)-lithospermic acid, developing two different synthetic routes for the diastereoselective synthesis of the trans-dihydrobenzo[b]furan segment of lithospermic acid.
Synthesis of anti-HIV lithospermic acid by two diverse strategies
Tirumala G. Varadaraju and Jih Ru Hwu
DOI: 10.1039/C2OB25575H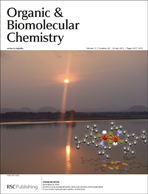 The Communication highlighted on the inside cover of this issue comes from Pandi Muthupandi and Govindasamy Sekar, Indian Institute of Technology Madras, and presents the synthesis of an unusual dinuclear chiral iron complex that was used to asymmetrically hydrophosphorylate aldehydes to synthesis optically active α-hydroxy phosphonates.
Synthesis of an unusual dinuclear chiral iron complex and its application in asymmetric hydrophosphorylation of aldehydes
Pandi Muthupandi and Govindasamy Sekar
DOI: 10.1039/C2OB25810B

Other great content in this week's issue of OBC includes:
Emerging Area
Chiral quaternary phosphonium salts: a new class of organocatalysts
Dieter Enders and Thanh Vinh Nguyen
DOI: 10.1039/C2OB25823D
Perspective
Self-assembly driven by an aromatic primary amide motif
Myungeun Seo, Jeyoung Park and Sang Youl Kim
DOI: 10.1039/C2OB25117E
Read the FUL ISSUE today!