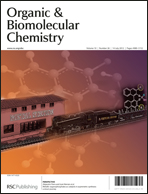 The latest issue of OBC is now available to access, and here's a quick peek…
Steaming its way on to the front cover is this image (right) from Alejandro Parra & José Alemán et al. Their perspective gives the reader a general overview of some of the most relevant topics in the applications of chiral metallic organophosphates, and includes a selection of the most outstanding uses of these catalysts.
Metallic organophosphates as catalysts in asymmetric synthesis: a return journey
Alejandro Parra, Silvia Reboredo, Ana M. Martín Castro and José Alemán
Org. Biomol. Chem., 2012, 10, 5001–5020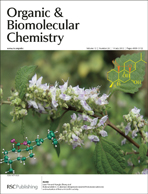 And coming into bloom on the inside cover is this image (left) highlighting the work Hongjie Zhang et al. describing the isolation and structure elucidation of 3 novel abietane diterpenoids, rubesanolides C–E (1–3) from the leaves of the medicinal plant Isodon rubescens
Rubesanolides C–E: abietane diterpenoids isolated from Isodon rubescens and evaluation of their anti-biofilm activity
Juan Zou, Lutai Pan, Qiji Li, Jianxin Pu, Ping Yao, Min Zhu, Jeffrey A. Banas, Hongjie Zhang and Handong Sun
Org. Biomol. Chem., 2012, 10, 5039–5044
Read both for FREE for the next 6 weeks!

As well as many excellent papers, there is also this perspective by Ramakrishna Edupuganti and Franklin A. Davis on the synthesis and applications of masked oxo-sulfinamides in asymmetric synthesis.