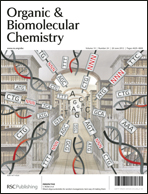 This week's OBC front cover highlights the review of Sabine Müller and colleagues who discuss the methods for the preparation of oligonucleotides. In particular Müller et al. review the work done in the field of synthesis of trinucleotide synthons representing codons for the 20 canonical amino acids and their use for fully controlled partial or total randomization individually at any number of arbitrarily chosen codon positions of a given gene.
Mixed oligonucleotides for random mutagenesis: best way of making them
Tamil Selvi Arunachalam, Claudia Wichert, Bettina Appel and Sabine Müller
DOI: 10.1039/C2OB25328C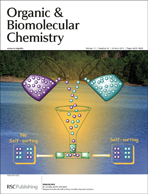 On the inside fron cover Manik Lal Saha and Michael Schmittel present a review on the emerging principles of how to guide several components toward the formation of self-sorted multi-component architectures, and in whcih they focus on developing a systematic classification for the reported self-sorting systems and an evaluation of their degree of self-sorting
Degree of molecular self-sorting in multicomponent systems
Manik Lal Saha and Michael Schmittel
DOI: 10.1039/C2OB25098E
Both of these reviews will be free to access for the next 6 weeks so get reading!
Also in this issue is the HOT communication by Marco Bella et al. regarding a modern take on the Rabe animation utilising organocatalyisis.
The Rabe amination after a century: direct addition of N-heterocycles to carbonyl compounds
Daniele M. Scarpino Schietroma, Mattia R. Monaco, Valerio Bucalossi, Philipp E. Walter, Patrizia Gentili and Marco Bella
DOI: 10.1039/C2OB25595B