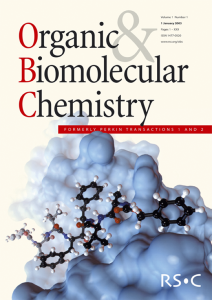 Continuing with our countdown to OBC's 10th anniversary celebratory issue we've collected a selection of our most cited articles from the area of bioorganic chemistry and made them free to access for one week.

DNA-programmed assembly of nanostructures
Kurt V. Gothelf and Thomas H. LaBean
DOI: 10.1039/B510551J
Nucleic acid nanotechnology—towards Ångström-scale engineering
Jesper Wengel
DOI: 10.1039/B313986G
Fluorescent DNA base replacements: reporters and sensors for biological systems
James N. Wilson and Eric T. Kool
DOI: 10.1039/B612284C
Photochemical control of biological processes
Douglas D. Young and Alexander Deiters
DOI: 10.1039/B616410M
DNA meets synthetic polymers—highly versatile hybrid materials
Fikri E. Alemdaroglu and Andreas Herrmann
DOI: 10.1039/B617941J
DNA-based machines
Moritz K. Beissenhirtz and Itamar Willner
DOI: 10.1039/B607033G
Electrontransfer through DNA and metal-containing DNA
Thomas Carell, Christoph Behrens and Johannes Gierlich
DOI: 10.1039/B303754A 
Bioorthogonal organic chemistry in living cells: novel strategies for labeling biomolecules
Paul F. van Swieten, Michiel A. Leeuwenburgh, Benedikt M. Kessler and Herman S. Overkleeft
DOI: 10.1039/B412558D 
Artificial ribonucleases
Teija Niittymäki and Harri Lönnberg
DOI: 10.1039/B509022A 
Nucleoside, nucleotide and oligonucleotide based amphiphiles: a successful marriage of nucleic acids with lipids
Arnaud Gissot, Michel Camplo, Mark W. Grinstaff and Philippe Barthélémy
DOI: 10.1039/B719280K 
Missed our other 10th anniversary posts? Take a look here for some of our top cited work.