Efavirenz (EFV) is a non-nucleoside reverse transcriptase inhibitor (NNRTI) administered as a first-line treatment against HIV. Despite its efficacy, a major shortcoming is its association with toxic events. The reasons for the drug's adverse effects are not currently clear, but in order to answer this question the availability of considerable amounts of enantiomerically pure EFV metabolites is essential, to allow in vitro and in vivo toxicological studies.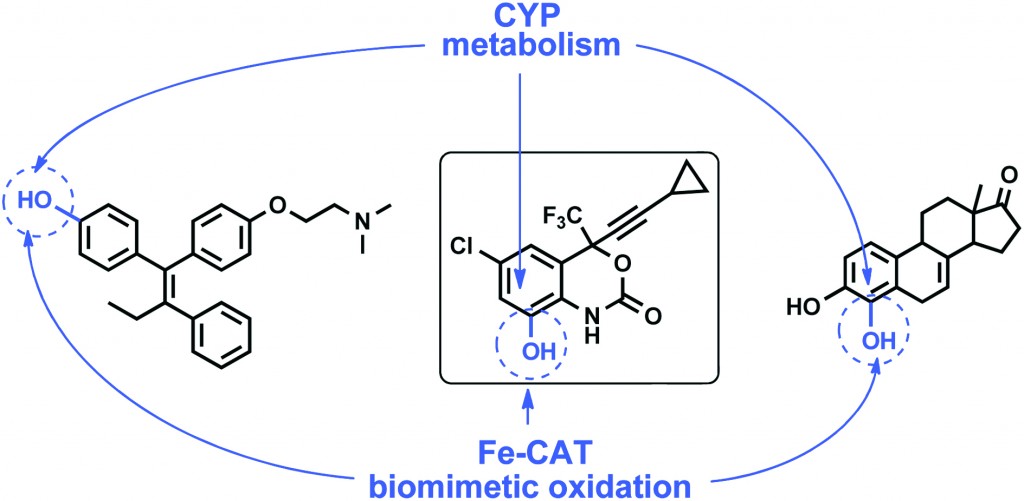 In this Hot paper Alexandra M. M. Antunes and co-workers report the development of a method for the direct aromatic hydroxylation of EFV, and other xenobiotics, using the easily accessible [FeII(bpmen)(OTf)2]–H2O2 oxidant system in the presence of acetic acid. Antunes et al. say that "This cost-efficient one-pot strategy represents a considerable improvement when compared with the already available methods for the C8 hydroxylation of EFV, avoiding a laborious multi-step synthetic approach and the resolution of racemic mixtures."
In addition to EFV, Antunes et al. successfully oxidise tamoxifen and equilin into their phenolic metabolites which demonstrates the general application of bio-inspired nonheme Fe-complexes for in vitro access to phenolic species typically formed via cytochrome P450 (CYP)-mediated hydroxylation of aromatic compounds. The possibility of applying an oxidation system mirroring the CYP metabolic pathways predicts the usefulness of the approach for molecular toxicology studies of a large variety of toxic aromatic xenobiotics.
This work represents a proof of concept regarding bio-inspired oxidation technologies and opens new opportunities for this chemistry. To find out more read the article in full here.
This paper will be free to access for the next 4 weeks.
Biomimetic oxidation of aromatic xenobiotics: synthesis of the phenolic metabolites from the anti-HIV drug efavirenz
Riccardo Wanke, David A. Novais, Shrika G. Harjivan, M. Matilde Marques and Alexandra M. M. Antunes
Org. Biomol. Chem., 2012,
DOI: 10.1039/C2OB25212K