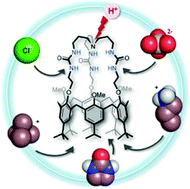 Ivan Jabin and collaborators in Belgium and France have designed a novel Calix[6]crypturea receptor with unique binding properties that are acid-base controllable.
This external stimulus is used to modulate the flexibility of the calixarene, allowing it to bind either neutral molecules, anions, primary/secondary ammonium ions, quaternary ammonium ions, with remarkable selectivity.
Interested? Why not read the article now and let us know what you think by leaving a comment below!
Acid–base modulation of a versatile heteroditopic calix[6]arene based receptor Damien Cornut, Jérôme Marrot, Johan Wouters and Ivan Jabin
Org. Biomol. Chem., 2011, Advance Article
DOI: 10.1039/C1OB05759F, Paper
This OBC paper has been selected as a Hot Article and will be FREE to access to all for a period of 4 weeks.