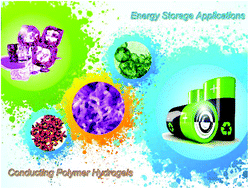 Future energy storage solutions require a combination of high energy density, high reliability and low manufacturing cost. Conducting polymer hydrogels (CPHs) have emerged in recent years as a viable alternative for energy storage applications, as a Feature article by Shi et al. reports.
CPHs exhibit highly advantageous properties such as a large surface area, tunable mechanical properties and high conductivity compared to other polymers. These materials combine a conductive π–conjugated backbone with a porous structure.
Two synthesis routes are presented: template-guided synthesis (e.g. polymerization of monomers in a non-conductive hydrogel matrix) and direct formation using phytic acid as a gelator and dopant of the polymer.
Independent of synthesis route, CPHs were successfully demonstrated as bulk materials for electrochemical capacitors (also termed "supercaps"), as well as functional binders within Li-ion batteries. By careful modification of the polymer properties, a stable material able to withstand over 10000 charge-discharge cycles was demonstrated. Finally, the current hurdles for mass-market adoption, such as limited mechanical strength, lower conductivity than currently utilized material combinations and a lower capacity are explained, and paths to overcome these are discussed.
Nanostructured conducting polymer hydrogels for energy storage applications
Ye Shi, Lele Peng and Guihua Yu
Nanoscale, 2015, 7, 12796-12806. DOI: 10.1039/C5NR03403E
Sebastian Axmann is a guest web-writer for the Nanoscale blog. His interests comprise manufacturing and metrology of nanostructures as well as their usage in current semiconductor devices. He also posts links to interesting research articles on Twitter: @SebastianAxmann.