Call For Papers: Nanozymes
Guest edited by Shaoqin Liu, Vincent Rotello, Asier Unciti-Broceta and Hui Wei
We are delighted to announce a call for papers for our latest online themed collection in Nanoscale and Journal of Materials Chemistry B (JMC B) on Nanozymes that is being guest edited by Professor Shaoqin Liu (Harbin Institute of Technology, China), Professor Vincent Rotello (University of Massachusetts, USA), Professor Asier Unciti-Broceta (University of Edinburgh, UK) and Professor Hui Wei (Nanjing University, China).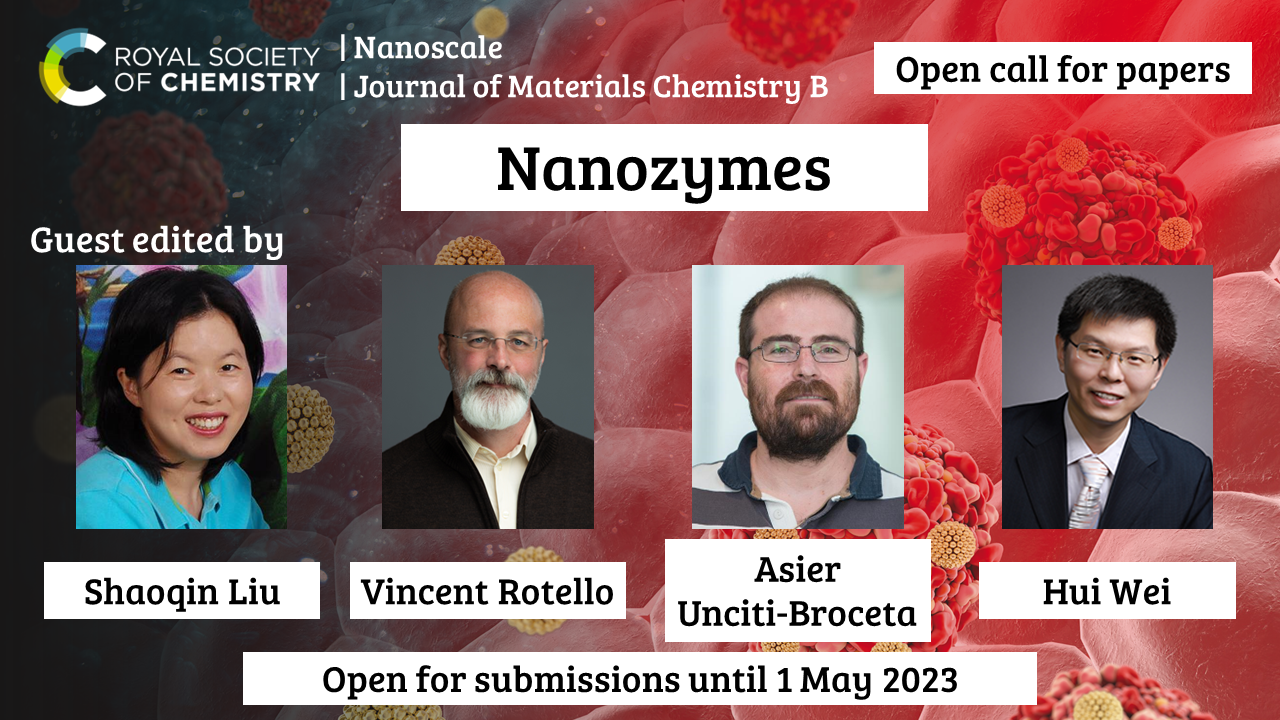 Nanozymes are nanomaterials with enzyme-like characteristics. They have been developed to address the limitations of natural enzymes and conventional artificial enzymes. Along with the significant advances in nanotechnology, biotechnology, catalysis science, and computational design, great progress has been achieved in the field of nanozymes since the discovery of peroxidase-like iron oxide nanozyme in 2007. Nanozymes have been explored for a variety of applications, ranging from biosensing and therapeutics to environmental protection and national security. To our knowledge, more than 400 laboratories from 35 countries are working on nanozymes. Notably, both the publications and citations on nanozymes have been growing rapidly, showing the enormous research interest from the field.
To further advance the field of nanozymes and highlight recent progress, we are delighted to invite you to contribute to this themed collection. We believe such a special collection will not only accelerate the development of the nanozyme field, but also attract more researchers to explore the hidden characteristics of nanomaterials for broad applications.
This call for papers is open for the following article types:
Communications
Full papers
Open for submissions until 1 May 2023
If you would like to contribute to this themed collection, you can submit your article directly through the Nanoscale online submission service. or the JMC B online submission service. Please mention that this submission is a contribution to the Nanozymes collection in the "Themed issues" section of the submission form and add a "Note to the Editor" that this is from the Open Call. The Editorial Office reserves the right to check suitability of submissions in relation to the scope of both the journal and the collection, and inclusion of accepted articles in the final themed issue is not guaranteed.
Please also note that all submissions will be subject to initial assessment and rigorous peer review to meet the usual high standards of the journals and acceptance is not guaranteed.
If you have any questions about the journal or the collection, then Edward Gardner, the Development Editor for Nanoscale, would be happy to answer them. You can contact him by emailing the journal inbox.
With best wishes,
Professor Shaoqin Liu, Harbin Institute of Technology, China
Professor Vincent Rotello, University of Massachusetts, USA
Professor Asier Unciti-Broceta, University of Edinburgh, UK
Professor Hui Wei, Nanjing University, China