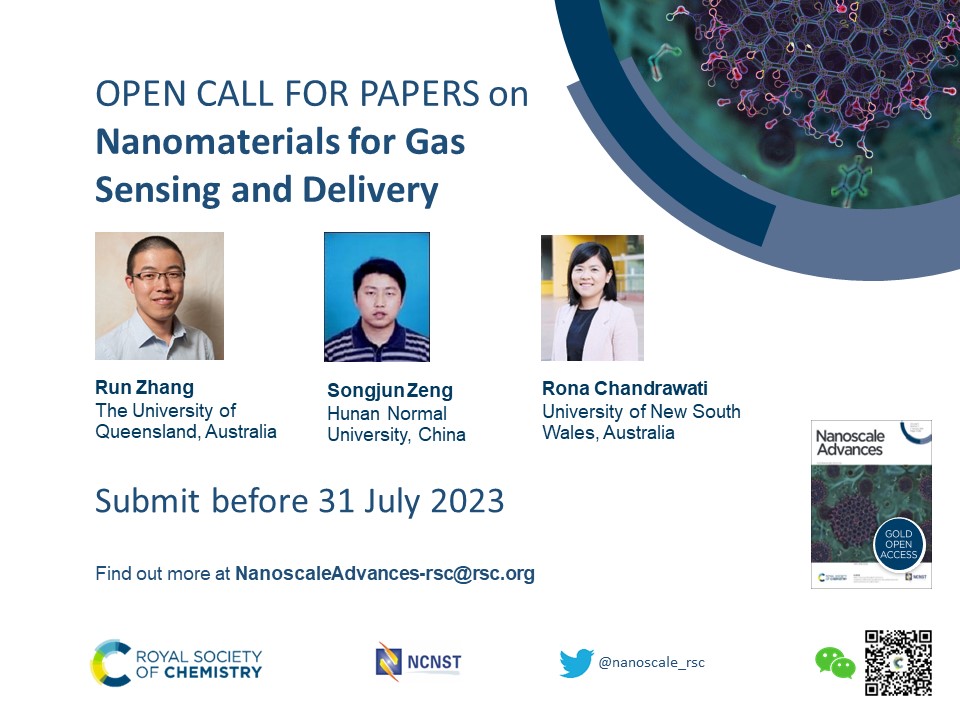 Guest Editors: Run Zhang (The University of Queensland, Australia), Songjun Zeng (Hunan University, China), Rona Chandrawati (University of New South Wales, Australia)
To address challenges in the management of gases (including noxious gas and therapeutic gas), a series of nanoscale materials with fascinating structural, physical, and chemical characteristics have been developed for gas sensing and delivery in recent years. This themed collection in Nanoscale Advances aims to provide a forum for recent trends in the rapidly evolving field of nanomaterials for gas sensing and delivery. We welcome articles on the following topics:
synthetic strategies
theoretical understanding
regulation of nanomaterials with gas sensing properties
nanosensors for the detection and identification of gaseous molecules (e.g. gasotransmitters, noxious gases, gaseous pollutants, etc.)
theranostic nanotechnology for drug-like gases delivery for the treatment of various diseases (e.g. cancer, gastrointestinal and cardiovascular disorders, etc.)
nanomaterial engineered devices and scaffolds for gas detection and therapies
other gas-related sensing technology and treatment procedures
You are welcome to submit an original research article within the scope.
If you are interested in contributing to this collection please get in touch with the Editorial Office by email.
Manuscripts should be submitted via the Royal Society of Chemistry's online submission service and the Editorial Office informed by email. Please add a "note to the editor" in the submission form when you submit your manuscript to say that this is a submission for the themed collection. The Editorial Office and Guest Editors reserve the right to check suitability of submissions in relation to the scope of the collection and inclusion of accepted articles in the collection is not guaranteed. All manuscripts will be subject to the journal's usual peer review process. Accepted manuscripts will be added to the online collection as soon as they are online, and they will be published in a regular issue of Nanoscale Advances.
Please note that article processing charges apply to all articles submitted to Nanoscale Advances if, following peer-review, they are accepted for publication. Details of the APC and discounted rates can be found here.