Call For Papers: Nanoscale Quantum Technologies
Guest edited by Qing Dai, Chao-Yang Lu and Zhipei Sun
We are delighted to announce a call for papers for our latest online themed collection in Nanoscale on Nanoscale Quantum Technologies that is being guest edited by Professor Qing Dai (National Center for Nanoscience and Technology, China), Professor Chao-Yang Lu (University of Science and Technology of China, China) and Professor Zhipei Sun (Aalto University, Finland).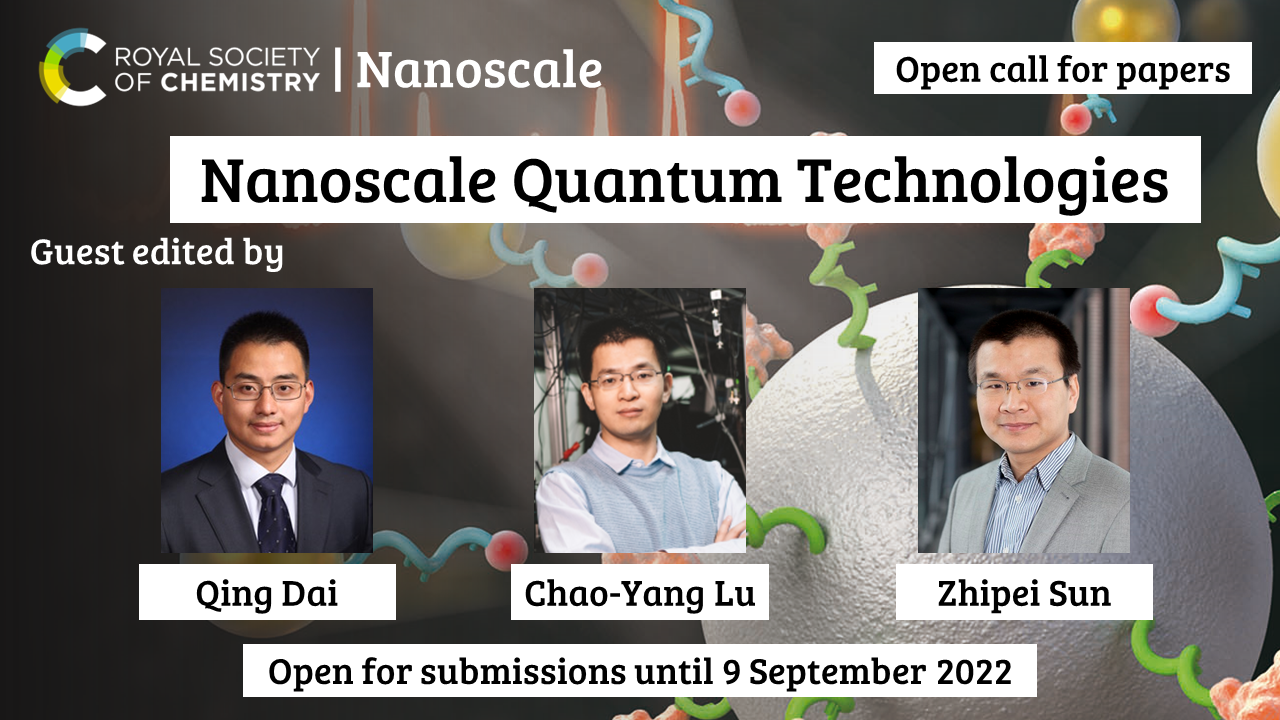 Materials and structures at the nanoscale play a key role in various current and emerging quantum technologies, such as quantum computing, quantum sensing and imaging, and quantum communication. In the last few decades, we have witnessed significant progress in nanoscience and nanotechnology, which has enabled great successes from fundamental research to applications in quantum technologies, facilitating completely new horizons in this area. This collection of research and review articles aims to provide a snapshot of recent progress in quantum technologies, including quantum materials, computing, sensing, imaging, photonics, optics and more, which we hope will inspire future developments.
This call for papers is open for the following article types:
Communications
Full papers
Open for submissions until 9th September 2022
If you would like to contribute to this themed issue, you can submit your article directly through the journal's online submission service. Please mention that this submission is a contribution to the Nanoscale Quantum Technologies collection in the "Themed issues" section of the submission form and add a "Note to the Editor" that this is from the Open Call. The Editorial Office reserves the right to check suitability of submissions in relation to the scope of both the journal and the collection, and inclusion of accepted articles in the final themed issue is not guaranteed.
Please also note that all submissions will be subject to initial assessment and rigorous peer review to meet the usual high standards of Nanoscale.
If you have any questions about the journal or the collection, then Edward Gardner, the Development Editor for Nanoscale, would be happy to answer them. You can contact him by emailing the journal inbox.
With best wishes,
Professor Qing Dai
National Center for Nanoscience and Technology, China
Professor Chao-Yang Lu
University of Science and Technology of China, China
Professor Zhipei Sun
Aalto University, Finland