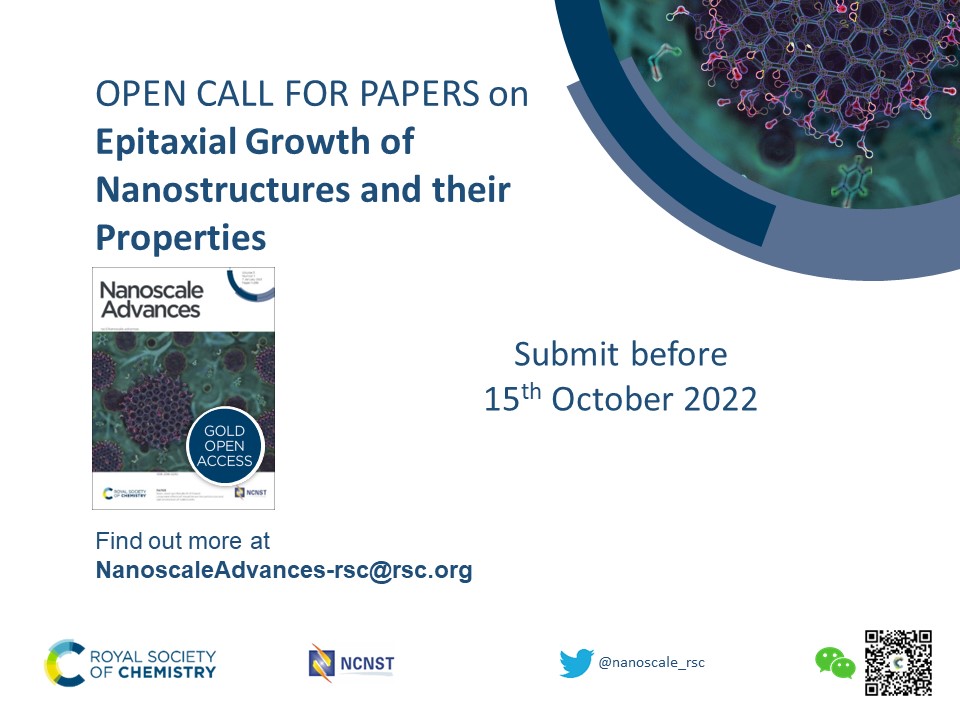 Guest Editors: Jin Zou, University of Queensland, Australia
To obtain nanomaterials with desired properties, various advanced fabrication techniques have been widely developed and frequently employed. Among them, as a key discipline of the bottom-up approach, epitaxial growth allows the grown nanostructures to have well defied orientation relationships, crystallographic directions/planes, crystal structures/phases, and facets/interfaces with their underlying substrates. Such unique features are often essential for securing their unique and high-efficient applications. In the recent decades, epitaxial growth has been widely employed to grow various advanced nanostructures, including semiconductor nanostructures (such as quantum dots, semiconductor nanowires and quantum wells), 2D nanostructures (including ultra-thin nanosheets), and hierarchical nanostructured metal-organic frameworks (MOF-on-MOF). In this theme, we intend to collect a set of manuscripts on the development of these three groups of epitaxial nanostructures, in which their outstanding properties are obtained due to the epitaxy.
We are delighted to consider original research articles within the scope.
If you are interested in contributing to this collection please get in touch with the Editorial Office by email.
Please note that article processing charges apply to all articles submitted to Nanoscale Advances if, following peer-review, they are accepted for publication. Details of the APC and discounted rates can be found here. Corresponding authors who are not already members of the Royal Society of Chemistry are entitled to one year's Affiliate membership as part of their APC. Find out more about our member benefits.
The Editorial Office and Guest Editors reserve the right to check suitability of submissions in relation to the scope of the collection and inclusion of accepted articles in the collection is not guaranteed. All manuscripts will be subject to the journal's usual peer review process. Accepted manuscripts will be added to the collection as soon as they are online, and they will be published in a regular issue of Nanoscale Advances.