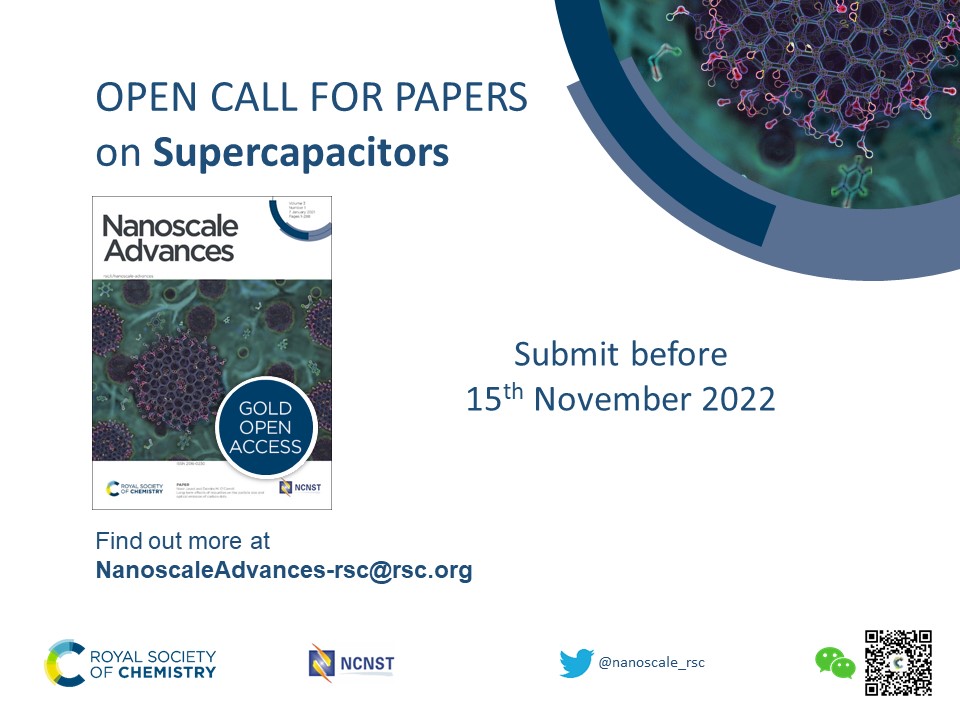 Guest Editors: Zhaojun Han, Ruopian (Sophie) Fang, Dewei Chu, Da-Wei Wang (all affiliated with University of New South Wales)
Advisory Guest Editor: Kostya Ostrikov
Supercapacitors are important electrochemical energy storage devices that can deliver high power, fast charge/discharge rate, long lifespan and safe operation. The last few decades have witnessed significant progress in supercapacitors for clean and sustainable energy applications. Depending on charge storage process, supercapacitors can be classified as electric double-layer capacitor (EDLC) or pseudocapacitor. This themed collection will focus on all aspects of supercapacitors, including electrochemistry, electrode materials, electrolytes, performance evaluation, device design and fabrication, and applications. It will also cover the integration of supercapacitors with other energy harvesting or storage systems for broader energy applications. The scope includes:
New electrode materials for EDLC and pseudocapacitor
Charge storage mechanism investigation, theory, modelling and simulations
Electrolyte development
Performance evaluation such as energy density, power density, safety and cyclability
Applications of supercapacitors in areas such as electronics, transport, aerospace and stationary power stations
Integrated energy systems consisting of supercapacitors
Multifunctional energy storage devices
Other emerging properties or applications of supercapacitors.
You are welcome to submit either an original research article or a review-type article within the scope.
If you are interested in contributing to this collection please get in touch with the Editorial Office by email.
Please add a "note to the editor" in the submission form when you submit your manuscript to say that this is a submission for the themed collection. The Editorial Office and Guest Editors reserve the right to check suitability of submissions in relation to the scope of the collection and inclusion of accepted articles in the collection is not guaranteed. All manuscripts will be subject to the journal's usual peer review process. Accepted manuscripts will be added to the online collection as soon as they are online, and they will be published in a regular issue of Nanoscale Advances. Article Processing Charges (APCs) apply to all accepted articles in Nanoscale Advances and more information about APCs and waivers can be found here.