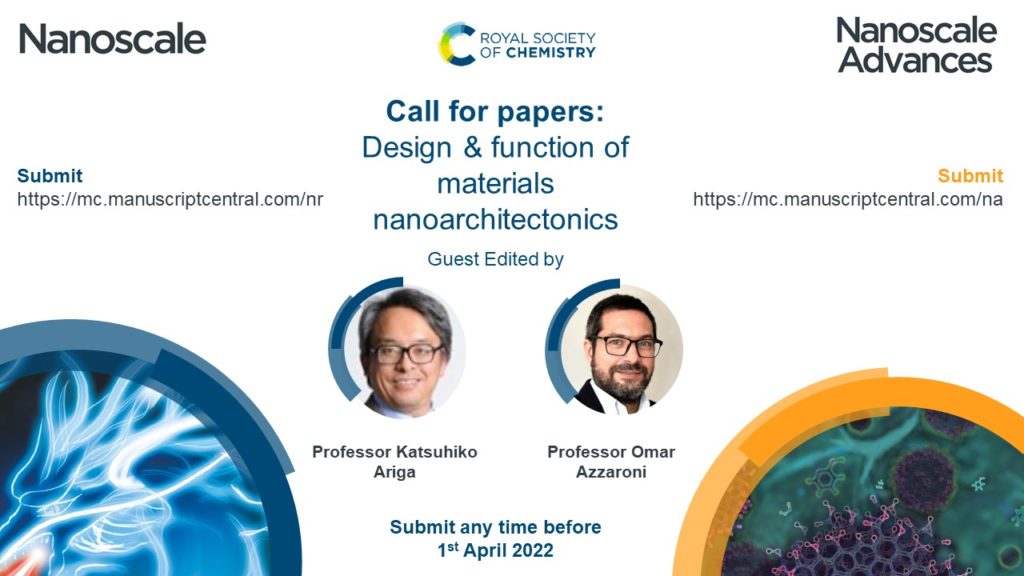 Nanoscale and Nanoscale Advances invite you to contribute to our new themed collection on the design and function of materials nanoarchitectonics.
Nanoarchitectonics refers to the creation of functional materials using nanoscale component units, encompassing fields such as nanostructured materials synthesis, supramolecular assembly, nanoscale structural fabrications, and materials hybridizations.
Find out more about nanoarchitectonics in this recent Focus article by Guest Editor Katsuhiko Ariga.
The Guest Editor team welcome submissions utilizing both theoretical and experimental methods. You are welcome to submit to either journal, and all published articles will be collated into a single online collection for promotion.
Find out more about Nanoscale here: www.rsc.li/nanoscale
Find out more about Nanoscale Advances* here: www.rsc.li/nanoscale-advances
Submit any time before 1st April 2022
Please make sure you mention on the submission form that your contribution is intended for the nanoarchitectonics themed collection.
We welcome contributions of original research as a Communication or Full Paper. All submissions will be subject to initial assessment and rigorous peer review to meet the usual high standards of the journals.
*Nanoscale Advances is an international gold open access journal (impact factor 4.5), publishing research across the breadth of nanoscience and nanotechnology. Please note that article processing charges apply to all articles submitted to Nanoscale Advances if, following peer-review, they are accepted for publication. Details of the APC and discounted rates can be found here. Corresponding authors who are not already members of the Royal Society of Chemistry are entitled to one year's Affiliate membership as part of their APC. Find out more about our member benefits.