Natural Product Reports is delighted to present a themed collection dedicated to Fungal Natural Products.
Guest-edited by Professors Sheryl Tsai (UC Irvine) and Greg Challis (University of Warwick), the collection features contributions from leaders in the field and highlights the emerging impact of fungal biology on natural product chemistry.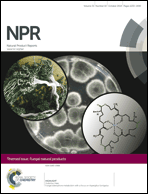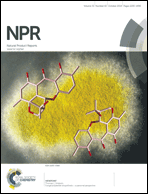 This collection is also dedicated to three colleagues who have made seminal contribution to the fungal natural product research: Prof. Thomas Simpson, Craig Townsend, and John Vederas.
The recent advancement in fungal biology related to natural product biosynthesis, enzymology and biochemistry has bridged a key knowledge gap, especially in elucidating how fungi creates such a huge diverse array of natural products.
The collection comprises 3 personal Viewpoints and Perspectives by Tom Simpson, Craig Townsend and John Vederas, 6 Highlights and 6 Reviews,  for an exciting overview of this flourishing field. We hope you enjoy the read!
Have you missed previous thematic collections? Access all NPR themed issues here.