Organic & Biomolecular Chemistry, our sister journal, publishes many articles that cover a variety of natural product chemistry.
We try to keep you updated here, although signing up to OBC's e-alert (free service) means you will receive the tables of content directly in your inbox every time an issue is published.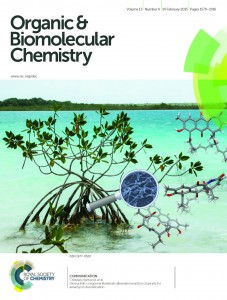 Hand-picked for you from the latest issues are:
Improved synthesis of the super antioxidant, ergothioneine, and its biosynthetic pathway intermediates
Peguy Lutete Khonde and Anwar Jardine
Org. Biomol. Chem., 2015,13, 1415-1419
DOI: 10.1039/C4OB02023E, Paper
The development and use of a general route to brassinolide, its biosynthetic precursors, metabolites and analogues
A. L. Hurski, Yu. V. Ermolovich, V. N. Zhabinskii and V. A. Khripach
Org. Biomol. Chem., 2015,13, 1446-1452
DOI: 10.1039/C4OB02197E, Paper
Divergolide congeners illuminate alternative reaction channels for ansamycin diversification
Ling Ding, Jakob Franke and Christian Hertweck
Org. Biomol. Chem., 2015,13, 1618-1623
DOI: 10.1039/C4OB02244K, Communication
Construction of the tricyclic core of steenkrotin-type diterpenoids via intramolecular [3 + 2] cycloaddition
Jun Xuan, Saiyong Pan, Yuanbao Zhang, Bin Ye and Hanfeng Ding
Org. Biomol. Chem., 2015,13, 1643-1646
DOI: 10.1039/C4OB02439G, Communication
Synthesis, and QSAR analysis of anti-oncological active spiro-alkaloids
Adel S. Girgis, Siva S. Panda, I. S. Ahmed Farag, A. M. El-Shabiny, A. M. Moustafa, Nasser S. M. Ismail, Girinath G. Pillai, Chandramukhi S. Panda, C. Dennis Hall and Alan R. Katritzky
Org. Biomol. Chem., 2015,13, 1741-1753
DOI: 10.1039/C4OB02149E, Paper
Studies towards the synthesis of bielschowskysin. Construction of the highly functionalized bicyclo[3.2.0]heptane segment
Anupam Jana, Sujit Mondal and Subrata Ghosh
Org. Biomol. Chem., 2015,13, 1846-1859
DOI: 10.1039/C4OB02182G, Paper
The chemical biology of dimethylsulfoniopropionate
Jeroen S. Dickschat, Patrick Rabe and Christian A. Citron
Org. Biomol. Chem., 2015,13, 1954-1968
DOI: 10.1039/C4OB02407A, Review Article
Synthesis and antimalarial evaluation of amide and urea derivatives based on the thiaplakortone A natural product scaffold
Brett D. Schwartz, Tina S. Skinner-Adams, Katherine T. Andrews, Mark J. Coster, Michael D. Edstein, Donna MacKenzie, Susan A. Charman, Maria Koltun, Scott Blundell, Anna Campbell, Rebecca H. Pouwer, Ronald J. Quinn, Karren D. Beattie, Peter C. Healy and Rohan A. Davis
Org. Biomol. Chem., 2015,13, 1558-1570
DOI: 10.1039/C4OB01849D, Paper
We hope you enjoy this selection! Let us know what you think…
… and why not submit your latest natural product research to OBC today?