Organic & Biomolecular Chemistry, our sister journal, publishes many articles that cover a variety of natural product chemistry.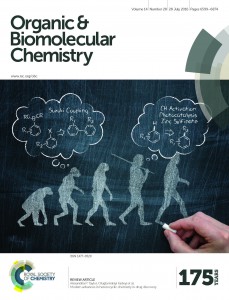 We try to keep you updated here, although signing up to OBC's e-alert (free service) means you will receive the tables of content directly in your inbox every time an issue is published.
Hand-picked for you from the latest issues are:
Asymmetric synthesis and absolute stereochemistry of a labdane-type diterpenoid isolated from the rhizomes of Isodan yuennanensis
Heping Deng, Wei Cao, Zhijiang Zhang and Bo Liu
DOI: 10.1039/C6OB00750C, Paper
---
Biosynthesis of isoxazolin-5-one and 3-nitropropanoic acid containing glucosides in juvenile Chrysomelina
Tobias Becker, Kerstin Ploss and Wilhelm Boland
DOI: 10.1039/C6OB00899B, Paper
---
Overproduction and identification of butyrolactones SCB1–8 in the antibiotic production superhost Streptomyces M1152
John D. Sidda, Vincent Poon, Lijiang Song, Weishan Wang, Keqian Yang and Christophe Corre
DOI: 10.1039/C6OB00840B, Communication
---
Synthesis and biological evaluation of acylated oligorhamnoside derivatives structurally related to mezzettiaside-6 with cytotoxic activity
Gaopeng Song, Sumei Li, Zhiwei Lei, Yibin Li, Junhua Li, Yixian Liao and Zi-Ning Cui
DOI: 10.1039/C6OB00862C, Paper
---
Asymmetric synthesis of (+)-17-epi-methoxy-kauran-3-one through tandem oxidative polycyclization-pinacol process
Gaëtan Maertens, Samuel Desjardins and Sylvain Canesi
DOI: 10.1039/C6OB01142J, Paper
---
Enantioselective synthesis of (+)-brevipolide H
Ching-Nung Chen and Duen-Ren Hou
DOI: 10.1039/C6OB01071G, Paper
---
Synthetic studies of callyspongiolide: synthesis of the macrolactone core of the molecule
Sudhakar Athe, Ashish Sharma, Kanakaraju Marumudi and Subhash Ghosh
DOI: 10.1039/C6OB01007E, Paper
---
Synthesis of L-indospicine, [5,5,6-2H3]-L-indospicine and L-norindospicine
Cheng-Shan Lang, Siew-Hoon Wong, Sharon Chow, Victoria L. Challinor, Ken W. L. Yong, Mary T. Fletcher, Dionne M. Arthur, Jack C. Ng and James J. De Voss
DOI: 10.1039/C6OB01187J, Paper
---
Synthesis of 2,6-trans– and 3,3,6-trisubstituted tetrahydropyran-4-ones from Maitland–Japp derived 2H-dihydropyran-4-ones: a total synthesis of diospongin B
Paul A. Clarke, Nadiah Mad Nasir, Philip B. Sellars, Alejandra M. Peter, Connor A. Lawson and James L. Burroughs
DOI: 10.1039/C6OB01182A, Paper
---
Catalytic asymmetric reactions and synthesis of quinones
Basavaprabhu Hosamani, Matheus F. Ribeiro, Eufrânio N. da Silva Júnior and Irishi N. N. Namboothiri
DOI: 10.1039/C6OB01119E, Review Article
---
Platinum-catalyzed cycloisomerizations of a common enyne: a divergent entry to cyclopropane sesquiterpenoids. Formal synthesis of sarcandralactone A
Vera P. Demertzidou and Alexandros L. Zografos
DOI: 10.1039/C6OB011226D, Communication
---
Synthesis of the 2-formylpyrrole spiroketal pollenopyrroside A and structural elucidation of xylapyrroside A, shensongine A and capparisine BA
James M. Wood, Daniel P. Furkert and Margaret A. Brimble
DOI: 10.1039/C6OB01361A, Paper
---
Biosynthesis-driven structure–activity relationship study of premonensin-derivatives A
A. Ismail-Ali, E. K. Fansa, N. Pryk, S. Yahiaoui, S. Kushnir, M. Pflieger, A. Wittinghofer and F. Schulz
DOI: 10.1039/C6OB01201A, Paper
---
Horner–Wadsworth–Emmons approach to piperlongumine analogues with potent anti-cancer activity
Li-Chen Han, Paul A. Stanley, Paul J. Wood, Pallavi Sharma, Anchala I. Kuruppu, Tracey D. Bradshaw and John E. Moses
DOI: 10.1039/C6OB01160H, Paper
---
We hope you enjoy this selection!
Why not submit your latest natural product research to OBC today?