Organic & Biomolecular Chemistry, our sister journal, publishes many articles that cover a variety of natural product chemistry.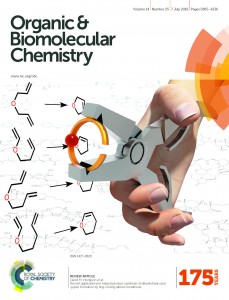 We try to keep you updated here, although signing up to OBC's e-alert (free service) means you will receive the tables of content directly in your inbox every time an issue is published.
Hand-picked for you from the latest issues are:
First total synthesis of (+)-broussonetine W: glycosidase inhibition of natural product & analogs
Ying-Ying Song, Kyoko Kinami, Atsushi Kato, Yue-Mei Jia, Yi-Xian Li, George W. J. Fleet and Chu-Yi Yu
DOI: 10.1039/C6OB00720A, Paper
---
Synthesis of a simplified triazole analogue of pateamine A
A. Hemi Cumming, Sarah L. Brown, Xu Tao, Claire Cuyamendous, Jessica J. Field, John H. Miller, Joanne E. Harvey and Paul H. Teesdale-Spittle
DOI: 10.1039/C6OB00086J, Paper
---
Studies towards the synthesis of tedanolide C. Construction of the C13-epi C1–C15 fragment
Joana Zambrana, Pedro Romea and Fèlix Urpí
DOI: 10.1039/C6OB00896H, Communication
---
Asymmetric synthesis of crambescin A–C carboxylic acids and their inhibitory activity on voltage-gated sodium channels
Atsuo Nakazaki, Yoshiki Nakane, Yuki Ishikawa, Mari Yotsu-Yamashita and Toshio Nishikawa
DOI: 10.1039/C6OB00914J, Paper
---
Nitropyrrole natural products: isolation, biosynthesis and total synthesis
Xiao-Bo Ding, Margaret A. Brimble and Daniel P. Furkert
DOI: 10.1039/C5OB02599K, Review Article
---
Some chemical speculation on the biosynthesis of corallidictyals A–D
Adrian W. Markwell-Heys and Jonathan H. George
DOI: 10.1039/C6OB00171H, Communication
---
First total synthesis of trehalose containing tetrasaccharides from Mycobacterium smegmatis
Manishkumar A. Chaube, Vikram A. Sarpe, Santanu Jana and Suvarn S. Kulkarni
DOI: 10.1039/C6OB00412A, Communication
---
Towards theory driven structure elucidation of complex natural products: mandelalides and coibamide A
Kevin M. Snyder, Justyna Sikorska, Tao Ye, Lijing Fang, Wu Su, Rich G. Carter, Kerry L. McPhail and Paul H.-Y. Cheong
DOI: 10.1039/C6OB00707D, Paper
---
Total synthesis of desoxycyclomarin C and the cyclomarazines A and B
Philipp Barbie and Uli Kazmaier
DOI: 10.1039/C6OB00801A, Paper
---
Total synthesis of cyclomarins A, C and D, marine cyclic peptides with interesting anti-tuberculosis and anti-malaria activities
Philipp Barbie and Uli Kazmaier
DOI: 10.1039/C6OB00800C, Paper
---
Total synthesis, biosynthesis and biological profiles of clavine alkaloids
Stephanie R. McCabe and Peter Wipf
DOI:10.1039/C6OB00878J, Review Article
---
Recent applications in natural product synthesis of dihydrofuran and -pyran formation by ring-closing alkene metathesis
Reece Jacques, Ritashree Pal, Nicholas A. Parker, Claire E. Sear, Peter W. Smith, Aubert Ribaucourt and David M. Hodgson
DOI:10.1039/C6OB00593D, Review Article
---
We hope you enjoy this selection!
Why not submit your latest natural product research to OBC today?