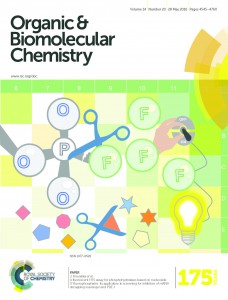 Organic & Biomolecular Chemistry, our sister journal, publishes many articles that cover a variety of natural product chemistry.
We try to keep you updated here, although signing up to OBC's e-alert (free service) means you will receive the tables of content directly in your inbox every time an issue is published.
Hand-picked for you from the latest issues are:
Abietane diterpenoids from Caryopteris incana (Thunb.) Miq.
Sen-Miao Zhao, Gui-Xin Chou, Qing-Shan Yang, Wei Wang and Jian-Li Zhou
DOI: 10.1039/C6OB00139D, Paper
---
Multicomponent access to indolo[3,3a-c]isoquinolin-3,6-diones: formal synthesis of (±)-plicamine
Marco V. Mijangos and Luis D. Miranda
DOI: 10.1039/C6OB00231E, Communication
---
A surprising switch in absolute configuration of anti-inflammatory macrolactones
Johannes Tauber, Markus Rohr, Thorsten Walter, Dieter Schollmeyer, Karin Rahn-Hotze, Gerhard Erkel and Till Opatz
DOI: 10.1039/C6OB00430J, Communication
---
The total synthesis and functional evaluation of fourteen stereoisomers of yaku'amide B. The importance of stereochemistry for hydrophobicity and cytotoxicity
Hiroyuki Mutoh, Yusuke Sesoko, Takefumi Kuranaga, Hiroaki Itoh and Masayuki Inoue
DOI: 10.1039/C6OB00640J, Communication
---
Epimerization of C5 of an N-hydroxypyrrolidine in the synthesis of swainsonine related iminosugars
Bao-Chen Qian, Akiko Kamori, Kyoko Kinami, Atsushi Kato, Yi-Xian Li, George W. J. Fleet and Chu-Yi Yu
DOI: 10.1039/C6OB00531D, Paper
---
Total chemical synthesis of lassomycin and lassomycin-amide
S. Lear, T. Munshi, A. S. Hudson, C. Hatton, J. Clardy, J. A. Mosely, T. J. Bull, C. S. Sit and S. L. Cobb
DOI: 10.1039/C6OB00631K, Paper
---
ent-Abietane diterpenoids with anti-neuroinflammatory activity from the rare Chloranthaceae plant Chloranthus oldhamii
Juan Xiong, Zhi-Lai Hong, Peng Xu, Yike Zou, Shang-Bo Yu, Guo-Xun Yang and Jin-Feng Hu
DOI: 10.1039/C6OB00731G, Paper
---
Concise total synthesis of (±)-serotobenine
Kangjiang Liang, Ting Wu and Chengfeng Xia
DOI: 10.1039/C6OB00682E, Paper
---
Synthesis of substituted tetrahydroisoquinolines by lithiation then electrophilic quench
Ruaa A. Talk, Alexia Duperray, Xiabing Li and Iain Coldham
DOI: 10.1039/C6OB00577B, Paper
---
Concise synthesis of calystegines B2 and B3via intramolecular Nozaki–Hiyama–Kishi reaction
Hong-Yao Wang, Atsushi Kato, Kyoko Kinami, Yi-Xian Li, George W. J. Fleet and Chu-Yi Yu
DOI: 10.1039/C6OB00697C, Paper
---
Synthetic investigation toward apigenin 5-O-glycoside camellianin B as well as the chemical structure revision
Yang Hu, Yuan-Hong Tu, De-Yong Liu, Jin-Xi Liao and Jian-Song Sun
DOI: 10.1039/C6OB00655H, Paper
---
Hydrohalogenative aromatization of multiynes promoted by ruthenium alkylidene complexes
Rajdip Karmakar, Kung-Pern Wang, Sang Young Yun, Phani Mamidipalli and Daesung Lee
DOI: 10.1039/C6OB00524A, Communication
---
We hope you enjoy this selection!
Why not submit your latest natural product research to OBC today?