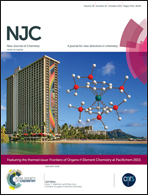 This month, guest editors Professors Frank T. Edelmann (Madgeburg, Germany) and Peter Junk (James Cook University, Australia) are pleased to present a part-themed issue on 'Frontiers of Organo-f-element Chemistry'. The 26 contributions show that organo-f-element chemistry continues to be one of the most attractive fields for potential applications in homogeneous catalysis and organic synthesis.
As part of the Pacifichem 2015 conference in Honolulu, Hawaii, USA (December 15–20, 2015), there will be a symposium devoted to the same topic as this themed issue. This symposium will focus on recent advances and future directions in the organometallic chemistry of lanthanide and actinide elements. It is intended to cover all fundamental and technological aspects of organo-f-element chemistry.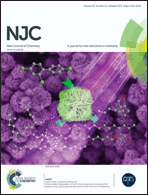 Read the Editorial here

The inside cover illustrates an article by Professor Guozhong Wang (Chinese Academy of Sciences, China) and his co-workers. Focusing on removing persistent organic pollutants, the authors present a new photocatalytic degradation pathway of 2,4,4′-trichlorobiphenyl, involving the outright degradation into long-chain alkanes via ring-opening reactions, using a highly-active photocatalyst: Ag nanoparticle decorated flower-like ZnO-nanosheet-assembled ZnO microspheres.
Photocatalytic degradation of 2,4,4′-trichlorobiphenyl into long-chain alkanes using Ag nanoparticle decorated flower-like ZnO microspheres
Quan Deng, Haibin Tang, Gang Liu, Xiaoping Song, Shenhong Kang, Huimin Wang, Dickon H. L. Ng and Guozhong Wang, New J. Chem., 2015, 39, 7781-7785. DOI: 10.1039/C5NJ00343A.
Access the full issue table of contents here