We are pleased to introduce Dr Gregory Welch as the latest member of the New Journal of Chemistry Editorial Board.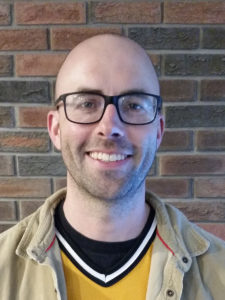 Dr. Gregory Welch is a Canada Research Chair in Solar Energy Materials and Devices and Associate Professor within the Department of Chemistry at the University of Calgary. He has published over 100 scientific papers in the areas of organometallic chemistry, metal-free catalysis, conducting polymers, and organic electronics. He obtained his BSc in Chemistry from the University of Calgary in 2003 and worked in the laboratories of Dr. Tristam Chivers and Dr. Warren Piers. He earned his PhD at the University of Windsor in 2008 under the supervision of Dr. Douglas Stephan where he helped create the concept of Frustrated Lewis Pairs. While trained as a synthetic inorganic chemist he diversified his skill set as a post-doctoral fellow working with Professor Guillermo Bazan at UC Santa Barbara. During this time Dr. Welch studied organic solar cells where he developed record performing molecular semiconductors and new methods to tune optoelectronic properties via Lewis acid-base chemistry. He started his independent career at Dalhousie University in 2012 before relocating to the University of Calgary in 2015.
Running an independent academic research laboratory (welchlab.wix.com/website), Dr. Welch has combined his expertise in synthetic chemistry, materials science, and device engineering to create a dynamic program focused on developing ultra-low-cost clean energy technologies. His research efforts focus on green synthetic chemistry, light-driven catalysis, and printed electronics.
Browse a selection of work published by Greg below:
A direct comparison of monomeric vs. dimeric and non-annulated vs. N-annulated perylene diimide electron acceptors for organic photovoltaics
Maryam Nazari, Edward Cieplechowicz, Thomas A. Welsh and Gregory C. Welch
New J. Chem., 2019, 43, 5187-5195
DOI: 10.1039/C8NJ06491A, Paper
Exploiting direct heteroarylation polymerization homocoupling defects for the synthesis of a molecular dimer
Willem B. Breukelaar, Seth M. McAfee and Gregory C. Welch
New J. Chem., 2018, 42, 1617-1621
DOI: 10.1039/C7NJ04285J, Paper
Ligand-centered electrochemical processes enable CO2 reduction with a nickel bis(triazapentadienyl) complex
Zachary Dubrawski, Joshua Heidebrecht, Braulio M. Puerta Lombardi, Alexander S. Hyla, Janina Willkomm, Chase L. Radford, Jian-Bin Lin, Gregory C. Welch, Sathish Ponnurangam, Roland Roesler, Demyan E. Prokopchuk and Warren E. Piers
Sustainable Energy Fuels, 2019, 3, 1172-1181
DOI: 10.1039/C8SE00623G, Paper
Dithienophosphole-based molecular electron acceptors constructed using direct (hetero)arylation cross-coupling methods
Thomas A. Welsh, Audrey Laventure, Thomas Baumgartner and Gregory C. Welch
J. Mater. Chem. C, 2018, 6, 2148-2154
DOI: 10.1039/C7TC05631A, Paper
Submit your research or reviews to Greg now, he will be delighted to receive them! – see our author guidelines for information on our article types or find out more about the advantages of publishing in a Royal Society of Chemistry journal.