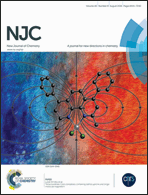 Lukáš Smolko in the group of Prof. Juraj Černák (P. J Šafárik University in Košice, Slovakia) designed this month's outside cover. In their article, the five authors report on a novel series of tetracoordinate Co(II) complexes— [Co(bcp)X2] (bcp = bathocuproine; X = Cl, Br, I)—which all possess moderate magnetic anisotropy. They show that although the structures of the complexes are very similar, slight differences in the crystal packing lead to significantly different magnetic behaviour.
Tetracoordinate Co(II) complexes containing bathocuproine and single molecule magnetism
Lukáš Smolko, Juraj Černák*, Michal Dušek, Ján Titišc and Roman Bočac.
New J. Chem., 2016, 40, 6593-6598. DOI: 10.1039/C6NJ00372A.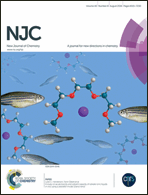 The inside cover is proposed by Dr Luke Henderson (Deakin University, Australia) to illustrate a study in which the authors examine the toxicity of a new class of ionic liquids. These are equimolar solutions of lithium bistrifluoromethylsulfonimide in triglyme (G3TFSA) or tetraglyme (G4TFSA), with potential applications in a variety of areas such as energy storage in lithium batteries and as  alternatives to traditional organic solvents. The authors demonstrate the lack of toxicity of these two solvate ionic liquids by three different complementary methods and conclude that G3TFSA and G4TFSA can be used as a replacement for DMSO for experimental research both in vitro and in vivo.
A study on acute toxicity and solvent capacity of solvate ionic liquids in vivo using a zebrafish model (Danio rerio)
Prusothman Yoganantharajah, Daniel J. Eyckens, Jessie L. Pedrina, Luke C. Henderson* and Yann Gibert.
New J. Chem., 2016, 40, 6599-6603. DOI: 10.1039/C6NJ00291A.
To browse the entire table of contents of the August issue of NJC, click here.