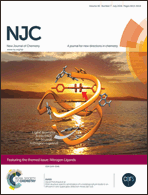 This month's issue includes a themed collection put together by guest editors Claude Gros and Franck Denat (Université Bourgogne Franche-Comté, France). It reports recent advances in the chemistry of Nitrogen Ligands, including organic, coordination, metal-organic and bioinorganic chemistry, and also materials science and catalysis. This themed issue follows the 6th EuCheMS Conference on Nitrogen Ligands held in Beaune in September 2015. The Editors and the NJC team are very grateful to all the authors (representing 13 countries) and reviewers of the 39 contributions to this themed issue.
Access the Editorial here.
We would like to thank Dr David Monchaud (Université Bourgogne Franche-Comté, France) for designing the outside cover. It illustrates an article reporting a palladated porphyrin named Pd·TEGPy. The authors show that its efficiency as a quadruplex-selective fluorescent dye relies on a structural design that endows it with attractive supramolecular and electronic properties and makes it an efficient turn-on, fluorescent stain thanks to a DNA-mediated sensitization mechanism that ensures a high level of specificity.
DNA structure-specific sensitization of a metalloporphyrin leads to an efficient in vitro quadruplex detection molecular tool
Pape Diaba Diabate, Aurélien Laguerre, Marc Pirrotta, Nicolas Desbois, Julien Boudon, Claude P. Gros and David Monchaud, New J. Chem., 2016, 40, 5683-5689. DOI: 10.1039/C6NJ01012A.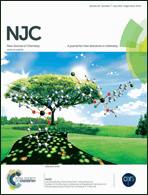 The inside cover is proposed by Dr Hai-Rong Zhang (Guangxi Normal University, China) to illustrate a paper showing the authors' interest in finding novel non-platinum metal-based complexes with maximal beneficial antitumor properties and minimal side effects. In their study, Dr Zhang and his colleagues synthesize and structurally characterize two rhodium(III) complexes of 8-hydroxyquinoline (HOQ) and its derivative 5-bromo-8-hydroxyquinoline (HBrQ). They also screen the in vitro cytotoxicity against a series of human cancer cell lines and study the DNA binding properties of the best cytotoxic complex.
Studies on the structures, cytotoxicity and apoptosis mechanism of 8-hydroxylquinoline rhodium(III) complexes in T-24 cells
Hai-Rong Zhang, Yan-Cheng Liu, Zhen-Feng Chen, Ting Meng, Bi-Qun Zou, You-Nian Liu and Hong Liang, New J. Chem., 2016, 40, 6005-6014. DOI: 10.1039/C6NJ00182C.
We invite you to browse the complete table of contents of the July issue to discover other reports that are not part of the themed collection.