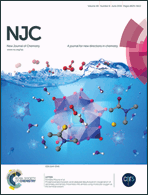 Prof. Noritaka Mizuno (The University of Tokyo, Japan) designed this month's outside cover. It illustrates an NJC Letter in which Prof. Mizuno and his colleagues present for the first time the efficient catalytic desulfurization-oxygenation of secondary and tertiary thioamides into amides using O2 as the terminal oxidant and water as the oxygen source. Their results show that various kinds of structurally diverse thioamides could be applied to this catalytic system. They use phosphovanadomolybdic acids, possessing both acidic and oxidation properties, the key to realizing this transformation as the efficient catalytic one.
Phosphovanadomolybdic acid catalyzed desulfurization–oxygenation of secondary and tertiary thioamides into amides using molecular oxygen as the terminal oxidant, Ning Xu, Xiongjie Jin, Kosuke Suzuki, Kazuya Yamaguchi and Noritaka Mizuno, New J. Chem., 2016, 40, 4865-4869. DOI: 10.1039/C5NJ03579A.
_____________________
This month's issue also features a Perspective review by Dr Radovan Šebesta (Comenius University in Bratislava, Slovakia) and his two co-workers, which focuses on a methodology affording diversely substituted chiral carbonyl compounds. Enamines, formed from the corresponding carbonyl compounds and appropriate chiral amine catalysts, can be oxidized to radical cation species. These radical cations can be intercepted by a range of SOMO-philic reagents, such as alkenes, arenes and some heteroatom-based reagents. They show that asymmetric singly occupied molecular orbital (SOMO) catalysis is a useful tool for enantioselective allylic alkylation, enolation, arylation, carbo-oxidation, vinylation, alkynylation, or intermolecular alkylation of carbonyl compounds, predominantly aldehydes. This new bond-forming methodology can find application in the construction of both natural products as well as medicinal agents.

Enantioselective organocatalysis using SOMO activation, Mária Mečiarová, Pavol Tisovský and Radovan Šebesta, New J. Chem., 2016, 40, 4855-4864. DOI: 10.1039/C6NJ00079G.
To browse the entire table of contents of the June issue, click here. And to sign up for the free e-alerts, so as not to miss a single issue of NJC, click here.