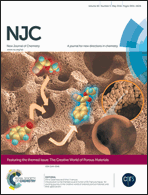 This month, Guest Editors Professors Anne Galarneau (Institut Charles Gerhardt Montpellier, France) and Irina I. Ivanova (M.V. Lomonosov Moscow State University, Russia) are pleased to present a part-themed issue in honor of Dr François Fajula entitled The Creative World of Porous Materials.
This collection of 12 Reviews, 2 Letters and 39 research Papers expresses the materials community's deep appreciation and conveys thanks to Dr François Fajula for his outstanding contributions to the fields of zeolites and ordered porous materials, and for his hard wok on behalf of the materials community. Additional contributions to this themed collection that are not published in the May issue can be found here as they are added.
NJC would also like to thank Alexander Yakimov and the Guest Editors for the design of the outside cover which illustrates this themed issue.
Read the Editorial here.
We invite you to browse the complete table of contents of the May issue to discover other authors' contributions that are not part of the themed collection.