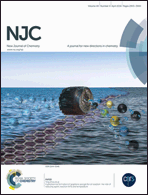 The first spring issue cover was designed by Prof. Ying Zhou (Southwest Petroleum University, China) to illustrate a study in which the authors stress the important role of hydrothermal treatment parameters for the oil remediation performance of the material.
The authors investigated the effects of various reducing agents with different temperatures and reaction times on the density, specific surface area, strength, morphology and adsorption performance of the prepared graphene aerogels. Their results provide hints to select a reducing agent to prepare a graphene aerogel for oil sorption.
Hydrothermal formation of graphene aerogel for oil sorption: the role of reducing agent, reaction time and temperature. Wenchao Wan, Fei Zhang, Shan Yu, Ruiyang Zhang and Ying Zhou, New J. Chem., 2016, 40, 3040-3046. DOI: 10.1039/C5NJ03086B.
_______________________
NJC also invites you to read the two Perspective reviews in this month's issue:
Profs. Wen He and Xudong Zhang (Qilu University of Technology, China) and their co-workers focused their review of hybrid cathode materials on composites of LiFePO4 or Li3V2(PO4)3 with other lithium-metal compounds. They note the challenges still facing researchers to bring the understanding of these materials to the point where they can be used in lithium ion batteries.
Recent progress in hybrid cathode materials for lithium ion batteries. Chuanliang Wei, Wen He, Xudong Zhang, Jianxing Shen and Jingyun Ma, New J. Chem., 2016, 40, 2984-2999. DOI: 10.1039/C5NJ02212F.
In the second review, Prof. Moo Hwan Cho (Yeungnam University, South Korea) and his colleagues focus on the major developments in the synthesis of N-doped TiO2 and its possible applications for the photocatalytic degradation of organic pollutants and environmental remediation under visible light irradiation.
Nitrogen-doped titanium dioxide (N-doped TiO2) for visible light photocatalysis. Sajid Ali Ansari, Mohammad Mansoob Khan, Mohd Omaish Ansari and Moo Hwan Cho, New J. Chem., 2016, 40, 3000-3009. DOI: 10.1039/C5NJ03478G.
Access the full issue table of contents