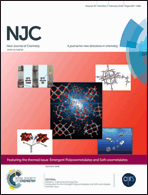 The February issue of NJC is a part-themed one devoted to Emergent Polyoxometalates and Soft-oxometalates. The NJC team thanks all of the authors for their contributions, as well as the two Guest Editors, Professors Debbie Crans (Colorado State University, USA) and Soumyajit Roy (Indian Institute of Science Education and Research Kolkata, India). Two Perspectives, 4 Letters and 16 research papers illustrate new advances in polyoxometalate-containing systems, with emphasis on those for which non-covalent organization creates new structures with new properties.
Read the Themed Issue Editorial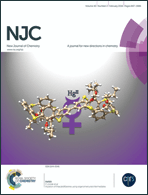 The inside cover is proposed by Prof. Pavel Lhoták (University of Chemistry and Technology Prague, Czech Republic) to illustrate a Paper in which the authors report on the application of organomercurial intermediates for the introduction of aryl moieties using Pd-catalyzed arylation, and for the preparation of the corresponding thiacalixarene dimers, so far unknown in thiacalixarene chemistry.
They show that their reaction enables the introduction of aryl moieties into the meta– or para-positions of the thiacalix[4]arene skeleton, thus leading to unique substitution patterns in thiacalixarene chemistry.
Arylation of thiacalix[4]arenes using organomercurial intermediates
F. Botha, V. Eigner, H. Dvořáková and P. Lhoták.
New J. Chem., 2016, 40, 1104-1110. DOI: 10.1039/C5NJ02427G.
See the full issue table of contents