This first issue of 2016 features a cover designed by Dr Jason Benedict (University at Buffalo, USA) to illustrate an article in which he and his co-workers show the design, synthesis and characterization of a photo-responsive linker that is subsequently reacted to yield metal–organic framework (MOF) single crystals.
Their analysis of the potential energy surface associated with rotation of one thiophene group reveals a number of key energetic minima, only one of which is expected to be photoactive. This study shows that future photo-responsive MOFs can utilize the unique microenvironment of void spaces to stabilize selected atropisomers for advanced light-responsive crystalline materials.
The role of atropisomers on the photo-reactivity and fatigue of diarylethene-based metal–organic frameworks
Ian M. Walton, Jordan M. Cox, Cassidy A. Benson, Dinesh (Dan) G. Patel, Yu-Sheng Chen and Jason B. Benedict.
New J. Chem., 2016, 40, 101-106. DOI: 10.1039/C5NJ01718A.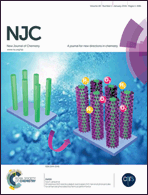 The inside cover was proposed by Dr Erjun Liang (Zhengzhou University, China). In their work, the authors demonstrate that introducing amorphous NiO electrocatalysts onto the surface of ZnO nanorod photoanodes can largely improve their photoelectrochemical performance. Their results seem to be a promising solution to develop a high-performance photoelectrochemical photoanode.
Amorphous NiO electrocatalyst overcoated ZnO nanorod photoanodes for enhanced photoelectrochemical performance
Yanchao Mao, Yongguang Cheng, Junqiao Wang, Hao Yang, Mingyang Li, Jian Chen, Mingju Chao, Yexiang Tong and Erjun Liang.
New J. Chem., 2016, 40, 107-112. DOI: 10.1039/C5NJ01815C.
To access the table of contents of the January 2016 issue, click here.