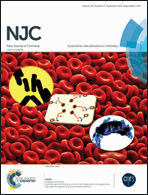 Dr Pradeep Kumar (CSIR-Institute of Genomics and Integrative Biology, India) proposed the outside cover this month to illustrate a paper in which he and his colleagues synthesize, characterize and evaluate aminoglycoside-conjugated silica nanoparticles [S–X NPs, where X = gentamicin (G), neomycin (N) or kanamycin (K)] for their antimicrobial activity against clinical pathogens and kanamycin-resistant E. coli. The results demonstrate the excellent efficacy of nanomaterial-based antimicrobial agents against nosocomial as well as antibiotic-resistant bacteria.
Synthesis and antimicrobial activity of aminoglycoside-conjugated silica nanoparticles against clinical and resistant bacteria
Shrish Agnihotri, Rajiv Pathak, Diksha Jha, Indrajit Roy, Hemant K. Gautam, Ashwani K. Sharma and Pradeep Kumar, New J. Chem., 2015, 39, 6746-6755. DOI: 10.1039/C5NJ00007F.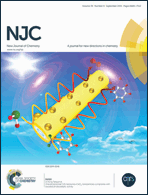 The inside cover was designed by Dr Zi-Rong Tang (Fuzhou University, China). In their paper, the authors synthesize one-dimensional (1D) CdS nanowire—CeO2 nanoparticle composites. According to Dr Tang and co-workers, this study provides useful information on the fabrication of 1D semiconductor—metal oxide composites with improved photoactivity for selective organic transformations and water splitting to hydrogen under ambient conditions.
One-dimensional CdS nanowires–CeO2 nanoparticles composites with boosted photocatalytic activity
Xin Zhang, Nan Zhang, Yi-Jun Xu and Zi-Rong Tang, New J. Chem., 2015, 39, 6756-6764. DOI: 10.1039/C5NJ00976F.
Find out more about the September issue here