The May issue of NJC is a part-themed one devoted to Foldamer Chemistry. The NJC team thanks all of the authors for their contribution, as well as the Guest Editor Professor David Aitken (Université Paris Sud, France). This themed issue contains a collection of 3 review articles and 14 research papers, which provide a representative state-of-the-art coverage of the high-level research being carried out in some of the main areas of foldamer research. It is appropriate that these contributions come from research groups spanning four continents, underlining the extent to which foldamers have had an impact on the scientific community.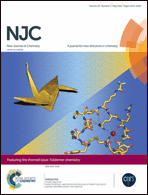 In their review article, Professor Suga (University of Tokyo, Japan) and his colleagues, who designed the outside cover, present an overview of the structural features of stable macrocyclic peptides and their binding to protein targets. They also show some initial indications of their folding behaviour free in solution, and discuss implications for the future design and functions of foldamers.
Model foldamers: applications and structures of stable macrocyclic peptides identified using in vitro selection
Seino A. K. Jongkees, Christopher J. Hipolito, Joseph M. Rogers and Hiroaki Suga. 
New J. Chem., 2015, 39, 3197-3207. DOI: 10.1039/C4NJ01633E.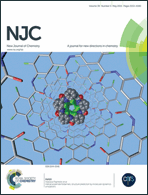 The work of Professor Pophristic (University of the Sciences, USA) and co-workers is illustrated on the inside cover this month. The authors present a molecular dynamics (MD) study on a series of  helical arylamide oligomers with systematically varying building blocks and linkage types to demonstrate that the conformational characteristics of foldamers, such as the number of units per turn, helical pitch, and pore diameter, can be predicted by MD simulations of small oligomers significantly shorter than the foldamers in question.
Helical arylamide foldamers: structure prediction by molecular dynamics simulations
Zhiwei Liu, Ara M. Abramyan and Vojislava Pophristic.
New J. Chem., 2015, 39, 3229-3240. DOI: 10.1039/C4NJ01925C.
Click here to discover the other articles of the May issue.